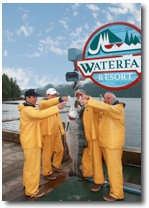 Ketchikan, AK (PRWEB) January 29, 2015
Near Ketchikan, just a 90-minute flight from Seattle, Waterfall Resort offers all-inclusive amenities that translate into the trip of a lifetime for novice and experienced anglers alike. Set in the pristine Alaskan wilderness, the resort's expert guides help guests reel in more than 20 varieties of fish during daily excursions at legendary fishing spots. This unparalleled experience combined with breathtaking wildlife viewings, four-star service and historic setting on 52 oceanfront acres on Prince of Wales Island, creates an unforgettable atmosphere that belongs on every fisherman's bucket list in 2015.
Waterfall Resort's top five reasons to go sport fishing in southeast Alaska include:
1. Wide variety of fish. The waters of southeast Alaska contain more than 20 varieties of sport fish, including King Salmon (Chinook), Silver Salmon (Coho), Halibut, Lingcod, Yelloweye Rockfish and more. When reeling them in, guests can only guess the type of fish on their line only by how they tug, giving them a rush until the fight is won.
2. Legendary fishing spots. Fish go where the food is, and certain locations are legendary for sport fishing. The resort's expert guides know the top fishing spots that attract fish by providing shelter for baitfish like herring and candlefish. Some of the top fishing spots include the visually striking rock formation called Pineapple; Rockpile, which attracts King Salmon; and Hole-in-the-Wall which attracts Silver Salmon.
3. Digital detox. Out on the water and off the grid, lack of cell reception and Wi-Fi during daily fishing excursions translates into an uninterrupted day of fishing, creating the perfect avenue to take in the beauty of southeast Alaska and spend uninterrupted quality time with others. Upon return to the resort, guests have access to free Wi-Fi hot spots and limited cell service if they so choose, or can completely unplug at the edge of the world.
4. Wildlife viewing. Humpback whales, orcas, sea otters, Steller sea lions, Bald eagles, and various species of birds, including puffins abound in the waters of southeast Alaska. Black bears are often found fishing for salmon at the resort's namesake waterfall, while those looking to get up-close-and-personal with black bears can take Promech Air's Bear Tour to watch them feed in their natural habitat on Needs Bay.
5. Storied history. Established in 1912, Waterfall Resort was once a salmon cannery that broke records for the sheer volume of seafood it caught and exported all over the world. Original elements of the record-breaking cannery are incorporated into every guest experience. For example, the General Store is aptly named, as it was once where cannery workers purchased their goods during the summer season, and the historic guest cabins once housed cannery workers.
Book now for the 2015 summer season. For more information visit http://www.WaterfallResort.com or call 800.544.5125.
About Waterfall Resort
Waterfall Resort is the most popular fishing lodge in Alaska, having welcomed more than 50,000 guests. Located by the legendary fishing spots of SE Alaska near Ketchikan, 90 minutes from Seattle, this site of 52 acres of coastal wilderness began in 1912 as a record-breaking salmon cannery. Today the destination is renovated into an all-inclusive resort featuring guided saltwater sport fishing for salmon, halibut and more than 20 other species. Waterfall Resort is managed by The Waterfall Group.