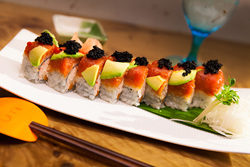 "Indulge at Umi Sushi & Oyster Bar; savor at exclusive, new Carter Estate Winery," said Kimberly Adams, Visit Temecula Valley president and CEO.
Temecula, CA (PRWEB) January 30, 2015
TEMECULA VALLEY Southern California Wine Country, January 30, 2015: "Behold the unique rain chandelier in the lobby at Pechanga Resort and the rare vernal pools at the Santa Rosa Plateau. Indulge at Umi Sushi & Oyster Bar; savor at exclusive, new Carter Estate Winery. Revel in the Villa at Robert Renzoni Vineyards and The Cave at Oak Mountain Winery. Celebrate Shakespeare in the Vines and the inspiration of E.A.T. Marketplace artisan cooking classes," announced Kimberly Adams, Visit Temecula Valley president and CEO. "The excitement of breaking ground will be happening from the Pechanga Resort new, luxury hotel wing, upscale spa, and extraordinary pool complex, to the new Comfort Suites hotel near Old Town Temecula. There is something great for everyone to experience." Welcoming more than 2 million visitors each year, the casual picturesque Temecula Valley is located 60 minutes from San Diego, Orange County, and Palm Springs; and 90 minutes from Los Angeles.
1-Unique Rain Chandelier, Lobby, and Suites at Pechanga Resort:
The recent multi-million dollar renovation at the four-diamond property features dramatic updates to the hotel lobby from the responsibly sourced marble flooring to the unique focal point rain chandelier. Upgrades to the hotel's Jacuzzi suites include luxury carpets, rich decor, and state-of-the-art technology.
2-Rare Vernal Pools at the Santa Rosa Plateau:
For the first time in three years, winter rains have filled the large, natural, vernal pools dramatically drawing in migrating birds. The seasonal pools may linger through February; with more rain, perhaps through March. Call ahead for updated trail information.
3-Umi Sushi & Oyster Bar at Pechanga Resort:
With ambiance inspired by sunken, dazzling jewels and glass from the sea, the new, interactive restaurant features sushi, sashimi, rolls, a raw bar (oysters on half shell, oyster shooters), and seafood platters.
4-Carter Estate Winery:
Promising exquisite charm for distinguished palates (limited production estate varietals, limited release "methode champenois" estate sparkling wines), brand new winery and tasting room are scheduled to open in March. Traditional and seated wine tasting options will be offered by appointment only.
5-Villa Tasting Room at Robert Renzoni Vineyards:
The new Tuscan-style Villa tasting room welcomes guests with Italian-style varietals like Temecula Valley AVA Pinot Grigio, Brunello di Sangiovese, and Moscato. Mama Rosa's Trattoria is scheduled to open in spring.
6-The Caves at Oak Mountain Winery:
Also scheduled to open in spring, the first mined wine caves in Southern California. The tasting room will be in the main subterranean corridor; a unique, subterranean banquet room will accommodate 50 guests.
7-E.A.T. Marketplace Artisan Cooking Classes:
The Old Town Temecula farm-to-plate champion now offers artisan cooking classes like all-about juicing (taught by a raw food chef); gluten-free baking (with an artisan baker); and canning and preserving (with an artisan cook).
8-Shakespeare in the Vines:
Known for producing great theatre in stunning settings with the vineyards of Temecula Valley serving as a backdrop, SITV will feature staging and costumes that are more dramatic than ever for its tenth anniversary season.
9-Comfort Suites Hotel near Old Town Temecula:
Breaking ground soon will be the 54-room lodging establishment with Spanish Renaissance-style architecture; accommodations will include oversized rooms with separate sleeping and living areas.
10-New Hotel Wing, Spa, and Pool Complex at Pechanga Resort:
The new 14-story hotel wing will feature 568 rooms, including 190 suites. The new, luxurious spa will include a salon, fitness center, treatment rooms, and a terrace with hydrotherapy pools. With the same design company as the iconic Bellagio, Wynn, and Venetian resorts, the new pool complex will feature three pools, five hydrotherapy pools and a lagoon.
*Information is believed accurate but may be subject to change.
ABOUT THE TEMECULA VALLEY AND VISIT TEMECULA VALLEY
With natural gifts of climate and geography, bolstered by Pu'eska Mountain, the Rainbow Gap, and Santa Margarita Gap, Temecula Valley is widely recognized for its scenic vineyards, award-winning wines, and gracious and friendly wineries as Temecula Valley Southern California Wine Country. The popular boutique destination includes the Temecula Valley A.V.A. (American Viticulture Area) as well as Downtown, Old Town Temecula, Pechanga Resort & Casino, and the Temecula Valley Wine Country Golf Trail, and is home to three-time award-winning California Golden State Winery of the Year, South Coast Winery.
Visit Temecula Valley (formerly the Temecula Valley Convention & Visitors Bureau), the region's official tourism marketing organization and resource for visitors is online including a complete daily Events Calendar at VisitTemeculaValley.com; "Temecula Valley Southern California Wine Country on Facebook; and @Visit_Temecula on Twitter. Visit Temecula Valley also welcomes ad agencies, location scouts, writers, and directors online at FilmTemecula.com. The Temecula Valley Visitors Center is located in Downtown, Old Town Temecula (Third Street and Mercedes) adjacent the Old Town Temecula Parking Garage. For visitor information and assistance, please call 888/363-2852 or 951/491-6085.