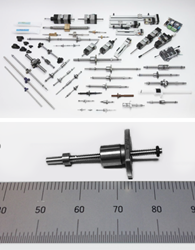 ...I am pleased to announce that the R.M. Hoffman Company will be helping us expand our presence into the United States."
Sunnyvale, CA (PRWEB) February 03, 2015
Tokyo, Japan-sambased KSS Co., Ltd., one of the world's exclusive miniature ball screw manufacturers, has designated the RM Hoffman Company as their official United States distributor for the KSS product line.
Akihisa Ota, President and CEO of KSS Co., Ltd, stated, "KSS has provided high-quality miniature-sized ball screws and actuators to the international market for 40 years. This is the moment for the U.S market to know the remarkableness of our products. I am pleased to announce that the R.M. Hoffman Company will be helping us expand our presence into the United States."
Tom Hoffman, President and CEO of R.M. Hoffman Company, added, "We are excited about being able to represent the KSS products in the United States. KSS's Miniature Ball Screws, Direct Motor Drive Ball Screws, and Miniature Actuators provide U.S. designers and design engineers with a whole new class of super small and ultra precision technology."
Ball screws have numerous applications because their precision manufacturing allows for nearly frictionless operation with minimal need for lubrication. KSS will now bring its full line of products to customers in the United States, creating opportunities for a greater array of available options for consumers. With the world's largest economy by GDP, the United States is an attractive market for KSS.
About R.M. Hoffman Company
R.M. Hoffman Company is a premier engineering resource, offering distribution, product modification, custom design, and assembly services to clients in the semiconductor, medical and biotech, defense, factory automation, and cartoning/packaging equipment industries. For more information please visit http://www.rmhoffman.com or call 1-(888) 505-4732.
KSS Co., Ltd is a leading developer, producer and wholesaler of Precision Ball Screws, Rolled Ball Screws, Precision Lead Screws, Lead Screws with Plastic Nuts, and other mechanical components related to linear motion. (http://www.kssballscrew.com)