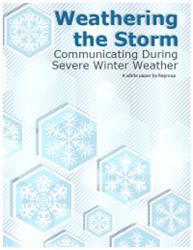 Download white paper to learn best practices that will help your organization weather the next major winter storm.
San Francisco, California (PRWEB) January 29, 2015
Regroup, the leader in Emergency Notification and Mass Communication solutions, has published an informative new white paper: "Weathering the Storm: Communicating During Severe Winter Weather." This very timely paper shares best practices for enhancing public safety and maintaining business continuity during disruptive winter storms.
Download the white paper here: http://bit.ly/1v43uod
Barely a month into the 2014-2015 winter season and the US has already experienced its tenth major storm. Winter Storm Juno brought heavy snow accumulations, high winds and coastal flooding to locations from Long Island to New England.
With two months of winter still remaining, Regroup's white paper will provide readers with an excellent resource for enhancing emergency communications before the next major winter storm arrives.
Highlights from the white paper include:

Best practices for emergency communications preparedness
Effective communication strategies to enhance public safety
A key best practice for maintaining business continuity during disruptive storms
For a live demo of Regroup's Emergency & Mass Notification System, sign up here: http://bit.ly/1ysR3wz
About Regroup:
Regroup, the industry-leading Emergency and Mass Notification System, offers easy one-click messaging to mobile phones (text/voice), landlines, email, social media, websites and more. Regroup stands apart from other mass notification systems with its ease of use, automated messaging capabilities, seamless integration with social media and client databases, unparalleled 24/7 customer support and unlimited text/voice/email messaging.
To learn more about how Regroup's Mass Notification System can provide rapid communications during a crisis, as well as streamline your organization's day-to-day communications, call 917-746-6776 or email inquiries[at]regroup[dot]com.