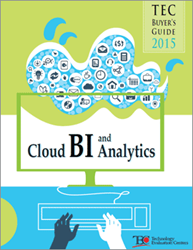 According to our research, nearly 47% of companies plan to include a cloud BI solution in the near future—this clearly signals an upward trend in the adoption of enterprise cloud BI. - Jorge Garcia, TEC Senior BI Analyst
Montreal, Quebec (PRWEB) January 30, 2015
Cloud computing has dramatically affected how organizations run their enterprise software initiatives. From lightweight software-as-a-service (SaaS) offerings to more robust solutions offered via platform-as-a-service (PaaS), the landscape of BI solutions for analytics and data management offered in the cloud is growing on a daily basis. The TEC 2015 Cloud BI and Analytics Buyer's Guide outlines the various options available on the market today, as well as their potential benefits and drawbacks.
Cloud adoption rates in BI and analytics have been slower than in other enterprise software application areas such as ERP, mostly due to the limited availability of key processes such as data preparation and management. Security has also been a concern. However, despite the slow adoption rate during the last decade, deployment of BI and analytics solutions via the cloud is gaining in popularity globally and has hit the corporate mainstream. In a recent TEC survey, nearly 47% of respondents reported that they have plans to include a cloud BI solution in their IT portfolio in the near future, clearly signaling an upward trend in the adoption of enterprise cloud BI.
One factor behind the sudden upward trend in adoption is the expansion and growth of cloud BI and analytics offerings. Historically, cloud BI and analytics solutions were viewed as an option for small- and medium-sized organizations mainly because of their low-cost entry point, and viewed as too simple for larger organizations. Today, there is a myriad of solutions on the market that cater to not only the needs of small- and medium-sized organizations but an increasing number of large companies that require more complex analytics configurations.
In partnership with Women in Technology International (WITI), the TEC 2015 Cloud BI and Analytics Buyer's Guide includes a discussion of the pros and cons of cloud BI and analytics solutions as well as an overview of key features of industry-leading cloud BI and analytics suites and analytics databases and data warehousing solutions. It also includes customer success stories from the software provider community, including Birst, HP, IBM, icCube, Sisense, Tableau, Teradata, and others. To download a free copy, visit http://www.technologyevaluation.com/research/TEC-buyers-guide/TEC-2015-Cloud-BI-and-Analytics-Buyer-s-Guide.html
And for more information about TEC's software selection services, contact +1 514-954-3665, extension 404, or e-mail selectionservices(AT)technologyevaluation.com.
About Technology Evaluation Centers
As the world's leading online provider of software selection tools, services, and research materials, Technology Evaluation Centers (TEC) helps companies and organizations evaluate and select the best enterprise software for their needs. With its software selection expertise and advanced decision-making software, TEC also helps reduce the time, cost, and risk associated with enterprise software selection. Today, TEC is recognized as an industry-leading software selection advisory firm with more than 400,000 subscribers to its information services and software evaluation and selection tools. For more information, please visit http://www.technologyevaluation.com.