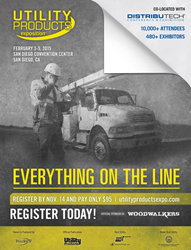 Rancho Cucamonga, CA (PRWEB) January 29, 2015
RDI-Engineering will attend the 2015 Utility Products Conference and Exposition on Feb. 3-5, at the San Diego Convention Center. RDI-Engineering announced that company representatives will travel in a company vehicle from their Rancho Cucamonga office locale to attend the conference and exposition in order to network with utility industry professionals and field technicians from the industry.
"We have worked very hard to get RDI to the point where we can begin to look for new ventures with different utility companies. This conference and exposition is a perfect opportunity to reach out to new clients as well as continue to refine established relationships with valued clients and colleagues. We look forward to what promises to be an exciting and constructive conference" said CEO, Hector Mendoza Jr.
The Utility Products Conference and Expo will exhibit hundreds of companies from multiple industries, utility products and services, and will feature industry related workshops. The estimated number of attendees is said to be approximately ten thousand with 480 plus exhibitors. Business professionals will attend from other industries including: architecture and construction, building and construction, business, distribution, energy, engineering, government, manufacturing, safety, technology and telecommunications. The RDI-Engineering representatives that will attend the exposition are CEO, Hector Mendoza Jr. and the Director of Operations, Eric Mendoza.
RDI-Engineering is a certified minority-owned business that offers a variety of services for the utility and telecommunications industry. The company which was founded in 2009, has its headquarters in Monterey Park, CA. In early 2014, RDI opened a second office location in Rancho Cucamonga, CA and grew from a small-size firm with just over 20 employees to a mid-size firm with almost 160 employees. As a new mid-size company, RDI-Engineering will seek for new business opportunities by attending and participating in industry related events such as the Utility Products Conference and Exposition.
###