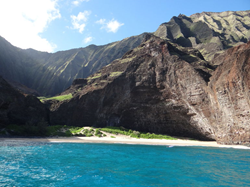 San Francisco, Calif. (PRWEB) January 29, 2015
With the New Year off to a chilly start and snow blanketing much of the U.S., the time is right to plan an escape! The team at Viator – the leading resource for researching and booking tours and activities worldwide – has a vast selection of experiences in warm-weather destinations that will help any traveler brighten up their forecast.
The Caribbean
Viator's collection of things to do in the Caribbean enables travelers seeking everything from relaxation to exhilaration to plan a warm-weather escape:

The Punta Cana River Horseback Riding and Zipline Tour explores the beautiful scenery of the Dominican Republic from two very unique and adventurous perspectives.
Interact with the locals (colorful tropical fish) during the Nassau SUB Bahamas Adventure with an underwater cruise in a personal Scenic Underwater Bubble.
Travelers will enjoy part adventure part relaxation and all fun with the San Juan Snorkel and Picnic Cruise in Puerto Rico.
Local music, dancing and storytelling are all included on the very relaxing (and warm) Aruba Sunset Catamaran Cruise.
The Jeep Safari Adventure Tour provides the ultimate Jamaica off-road experience as travelers head west from Montego Bay or Negril to the islands' interior to discover its beauty, culture and history.
Hawaii
Serving up sun, sea and sand all year long, there's no bad time of year to visit the islands of Hawaii.
Discover the beautiful coral reefs and snorkel into a crescent-shaped submerged volcanic crater during the Molokini Sail and Snorkel Adventure in Maui.
From volcanoes to waterfalls to the rainforest, experience the best of the Big Island with the Big Island Adventure Combo Helicopter Zipline and Lava Tour.
Cruise from Oahu's beautiful North Shore to observe the ocean's top predators – up close – from a secure underwater shark cage during the Oahu Shark Dive.
Cruise the majestic Na Pali coast en route to Forbidden Island, Ni'ihau, for some of the best snorkeling in Kauai on the Na Pali and Niihau The Forbidden Island Kauai Snorkel Cruise.
The Na Pali Kauai Sunset Cruise is the ideal excursion for those who want to see the Na Pali Coast but aren't interested in snorkeling.
Central America
With the weather warm and dry, and plenty of post-holiday deals to be found, this is an ideal time to head south and explore Central America.
Take an exciting air tour from Guatemala City to discover the beauty and ancient history of the Mayan ruins during the Tikal Day Trip by Air from Guatemala City with Lunch.
Feel the rush of adrenaline with a visit to Arenal Volcano National Park in Costa Rica and feel the relaxation of the rejuvenating hot springs during the Arenal Volcano and Hot Springs Day Trip from San Jose.
The Belize Snuba Adventure Tour from Ambergris Caye is an undersea adventure combining the simplicity of snorkeling with the depth of scuba diving – no certification required!
Board a high-speed motorboat for an exciting half-day eco journey along the Panama Canal and experience some of Panama's secret sights and sounds with Gatun Lake and Monkey Island Sightseeing Cruise from Panama City.
For more information on these and thousands of other amazing travel experiences as well as the latest deals, promotions, contests and news, visit http://www.viator.com or follow Viator on Facebook (ViatorTours) and Twitter (ViatorTravel).
About Viator
Viator, a TripAdvisor company, is the leading global tours and activities provider for travelers, delivering online and mobile access to thousands of curated trip activities including tours, attractions, shore excursions and private guides, in more than 1,500 destinations worldwide. In-house travel experts work with trusted local operators to ensure the quality and value of every experience, all backed by Viator's 24/7 customer service and global low-price guarantee. With more than 600,000 verified reviews plus exclusive videos and insider travel tips, Viator has everything a traveler needs to find and book the best things to do worldwide. In addition to the flagship site – Viator.com – travelers can book in advance or in-destination via the Viator Tours and Activities App, as well as local-language sites for European, Latin American and Asian travelers. Viator also provides tours and activities to more than 3,000 affiliate partners including some of the world's top airlines, hotels and online travel agencies. Viator is headquartered in San Francisco with regional offices in Sydney, London and Las Vegas. Viator – travel with an insider.