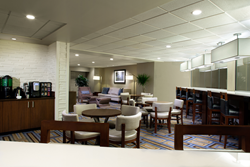 Our guests really love our newly constructed and upgraded club lounge," said Harold Bassler, Area General Manager for Crescent Hotels & Resorts.
Arlington, VA (PRWEB) January 29, 2015
The Hilton Crystal City at Washington Reagan National Airport, conveniently located between the airport and downtown Washington, DC, is turning heads with a new approach to catering to the business traveler. "Our guests really love our newly constructed and upgraded club lounge," said Harold Bassler, Area General Manager for Crescent Hotels & Resorts. "We started with a clean slate, creating the executive lounge from repurposed space and moving this experience near our main lobby and ballroom area so that the guest does not feel excluded from the rest of the activities within the hotel." The Hilton Crystal City added the executive lounge as part of a $14M renovation last year and is one of over eighty hotels throughout the United States and Canada (including 16 hotels in the Washington DC area) managed by Crescent Hotels & Resorts.
While many hotels offer a club lounge to seasoned business travelers, the Hilton Crystal City takes the club lounge experience to the next level. The club lounge is designed to truly provide guests with an experience that exceeds the competitor hotels with architectural elements that would be seen in homes rather than hotel outlets. Guests utilizing the club lounge not only receive VIP treatment, the experience is magnified by the large glass windows that span across the main wall allowing others to see in but only gain access with a designated key card for the club lounge. The oversized space, with seating for 60, boasts custom designed tile flooring and seating clusters including deep comfortable sofas and communal tables where those in club level rooms can mingle with other club guests.
More power outlets were added for the convenience of those traveling with laptops and other powered devices. For those that prefer to relax, and unwind, there are sleek stainless steel and glass refrigerators with a variety of beverage and food options. The morning has a special buzz each and every day as guests visit the lounge at their convenience to enjoy a complimentary deluxe continental breakfast offered daily.
"Our lounge has really impressed our regular travelers, and has been selling out regularly," stated Bassler. "Guests that have not reached an elite status within Hilton do not mind paying a small surcharge for the exclusive use of this private area." In travel today, many perks have been removed throughout the travel industry; however, at the Hilton Crystal City it is clear that executives and road warriors are being provided the experience that honors their time and business.
ABOUT HILTON CRYSTAL CITY AT WASHINGTON REAGAN NATIONAL AIRPORT
The Hilton Crystal City is located in downtown Crystal City, just across the river from Washington, DC, an area known for its countless shopping, dining and entertainment options and proximity to Washington Reagan National Airport. Just steps from Metrorail which connects hotel guests to the nation's capital in just minutes. Guest parking and complimentary shuttle to the airport gives guests various transportation options. The 393 room hotel offers 22 meeting rooms (totally 25,500 sq ft), three dining options, and a fitness center. For more information on the Hilton Crystal City, please visit http://www.hiltoncrystalcityhotel.com, call 703-418-6800, like on http://www.facebook.com/HiltonCrystalCity or follow on twitter.com/Hilton_CC.
ABOUT CRESCENT HOTELS & RESORTS
Crescent Hotels & Resorts is a nationally recognized, top-10 independent third-party operator of hotels and resorts. Crescent currently operates over 80 hotels and resorts, with close to 19,000 rooms in 29 states and Canada. Crescent is one of a small group of independent management companies approved to operate hotels under the Marriott, Hilton, Starwood, Hyatt and InterContinental flags. Crescent also operates a collection of legendary independent hotels and resorts. For more information, please visit http://www.chrco.com.
ABOUT HILTON HOTELS & RESORTS
Founded in 1919 as the flagship brand of Hilton Worldwide, Hilton Hotels & Resorts continues to build upon its legacy of innovation by developing products and services to meet the needs of savvy global travelers at more than 550 hotels across six continents. Hilton is the stylish, forward-thinking global leader in hospitality with Team Members shaping experiences in which every guest feels cared for, valued and respected. Access the latest news at news.hilton.com and begin your journey at http://www.hilton.com or http://www.hilton.com/offers for the latest hotel specials. View a list of official social channels at http://www.hilton.com/social. Hilton Hotels & Resorts is one of Hilton Worldwide's ten market leading brands.
This hotel is a member of stayinwashingtondc.com.
rw Stayinwashingtondc.com #stayinwashdc