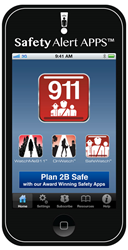 Being prepared for the unexpected is essential in any emergency.
Los Angeles, California (PRWEB) January 29, 2015
Safety Alert Apps, Inc., the White House award-winning Smartphone Safety App technology development company, announced today the top 3 tips for personal safety.
In making the announcement, CEO and company founder Jill Campbell said, "We want the public to focus on how they can stay safe in these complicated and the dangerous times we live in. Being prepared for the unexpected is essential in any emergency."
She continued, "And the 3 key elements of preparation for personal safety are being aware of your surroundings, anticipating "what-if" scenarios in those surroundings and role playing how to respond." She added, "Obviously, every real life scenario is not the same. Our apps gives the user the ability to create different scenarios in which to respond. And, what all safety professionals advise is that training and using your instincts are the best defense to help protect yourself."
Campbell's company, Safety Alert Apps is a leading provider of Smartphone Safety Alert Applications, producing safety apps for the consumer and institutional markets. The apps turn a smartphone into a fully customizable multi-tasking emergency tool that immediately communicates critical incident information, in real time. The user is on the phone with 911/security team, campus police and friends while simultaneously preselected text and email alerts are sent with GPS location to multiple layers of first responders during the first seconds of any emergency.
The company's apps include OnWatchOnCampus® created for young women on college campuses in the US. The app has 6 customizable features and won the White House Apps Against Abuse Technology Challenge, launching from the White House in April 2012.
WatchMe911®, designed for the general public has similar features and includes the company's award-winning technology. SafeWatchTEAM® is the company's app developed for the workplace.
To find out more about the company and all their products, visit http://www.SafetyAlertApps.com