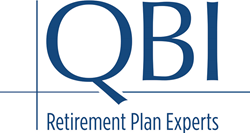 The combined company will serve more than 3,500 retirement plans
Woodland Hills, CA (PRWEB) January 29, 2015
QBI, LLC, a leading provider of administration and consulting services for qualified retirement plans, has announced its acquisition of Strategic Pension Services, Inc. (SPS) of Irvine, California. SPS adds its formidable expertise in the design, implementation, administration and compliance aspects of 401(k), profit sharing, 403(b) and other defined contribution retirement plans to QBI's already strong organization of more than 75 professionals. The combined company will serve more than 3,500 retirement plans and have a significant presence in Southern California.
QBI President and Chief Executive Officer Nick Stonnington said of the acquisition, "We couldn't be more excited to welcome the clients and staff of SPS to QBI. Our groups align philosophically and professionally in a way that defines what we believe is a truly good fit. We expect that clients and trusted partners will benefit as a result of our combined strengths and offerings."
SPS, led by CEO Doug Van Galder, has been very successful in building 401(k) and 403(b) relationships since 2004 with an experienced team of consultants and administrators. Van Galder, who, along with his colleagues, will join the QBI team, said, "It was very important for us to merge with a company whose ethical and professional commitment matched ours. QBI is definitely that organization. I'm excited about contributing to the company's strategic vision of expanding its presence in Southern California and growing as a recognized expert partner to industry professionals."
As part of this acquisition, QBI has announced its intention to present a seamless transition to SPS clients who should expect few changes in relationship management.
About QBI, LLC
Founded in 1978, QBI, LLC, is the largest retirement plan administration and consulting firm in Southern California serving more than 3,000 clients. QBI supports investment professionals and their clients with expert design and administration of 401(k), 403(b), Profit Sharing, Defined Benefit / Cash Balance plans. For more information, visit http://www.qbillc.com.