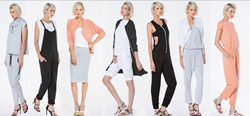 Los Angeles, CA (PRWEB) January 29, 2015
Innovative ready-to-wear women's brand Lime & Vine proudly unveils its Spring Summer 2015 collection. Hot on the heels of 2014's successful fall collection, the latest line features timeless and versatile color schemes on comfortable yet chic tops, jackets, skirts, pants, and more. Upholding the company's ethos of adaptability, these pieces remain perfect for work, the gym, and a night on the town. It's as breathable as it is brilliant.
Spring Summer includes items made of jersey cottons, light knits, and other blended fabrics. The subtle hues and striking palette prove elegant and classy, making the latest from Lime & Vine versatile.
The collection will be available on January 30, 2015, exclusively at http://www.limeandvine.com.
Add a splash of timeless color and comfort to your spring and summer season with Lime & Vine.
###
About Lime & Vine:
Lime & Vine prides itself in hand design and fashioning remarkable clothing in the process. With a spectrum of pristine materials ranging from light and sheer to heavy and warm, the brand boasts comfortable wear from tops and jackets to skirts, pants, and more. Maintaining a socially conscious perspective, Lime & Vine is resolutely committed to sensible and realistic designs in addition to proper manufacturing and return policies for customers.
Media Contact: Mary Gonzalez | mary(at)mannfolkpr(dot)com | 323.460.2633 | http://www.mannfolkpr.com