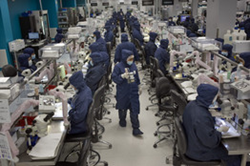 Tijuana, Mexico (PRWEB) January 29, 2015
Tijuana EDC will be exhibiting in booth 1987, showcasing Baja California as the leading state for medical device manufacturing in Mexico with more than 50,000 jobs dedicated to the industry. Delegation´s representatives will meet with key decision makers at the show to promote the strength and innovative capabilities the region has to offer to the global medical device industry. They will highlight services the EDC provides to companies looking to establish manufacturing operations in Tijuana along with presenting ISO certified and FDA approved manufacturing solutions offered by local companies.
Baja California alone represents 50% of Mexico´s total exports of medical devices, with Tijuana taking the leading position in medical device manufacturing employment in North America.
Tijuana boasts a sophisticated manufacturing base, accounting for more than 60% of the medical device firms in the State. During the last two years, the city´s medical device manufacturing employment ramped up by more than 20%, driven by new companies entering the Tijuana market and major expansions of existing companies' operations in the area. This underscores a growing trust in the competitive edge gained by using Tijuana as a manufacturing platform to reach U.S. and European markets.
In 2014, the Baja California medical device cluster added new manufacturing operations of Surgical Specialties Corporation and saw the expansion of leading firms such as CareFusion, which increased its production capacity from 1 to 1.5 million intravenous units per day with a $20 million investment in facilities and equipment, and GreatBatch, which started a $35 million expansion integrating new lines to its vascular and portable medical devices production. Toward the end of the year, New Zealand's Fisher & Paykel, leading designer and manufacturer of respiratory solutions, began its $4 million project to add 350,000 square feet to its Tijuana manufacturing capacity and 200 new jobs to its workforce.
During MD&M West, the delegation representatives will also provide first-hand information about local supply chain opportunities within this important sector that currently imports more than 1.5 billion annually in products and services. If you are interested in supplying to a potential manufacturing base of 42 medical device firms, contact the Tijuana EDC.