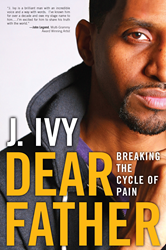 If you don't deal with your emotions, one day your emotions will deal with you.
NEW YORK, NY (PRWEB) January 31, 2015
In his new book "Dear Father: Breaking the Cycle of Pain" (released this week by Beyond Words/Atria), Grammy Award-winning performance poet/author J. Ivy peels away the surface to expose and to fully express the raw human emotion, anxieties and pain he experienced growing up on the South Side of Chicago without a father. Through poetry and storytelling, Dear Father tells the universal story of abandonment and its impact on Ivy. It is also the story of how Ivy found peace and forgiveness through creative expression.
Wisdom teacher Deepak Chopra said, "In his book, Dear Father, J delivers a powerful message of hope, transforming his pain into power." On the book cover, music megastar and friend John Legend writes, "J. Ivy is a brilliant man with an incredible voice and a way with words." For Ivy, poetry and writing are more than artistic expression; they are forms of emotional healing and personal empowerment. His poem "Dear Father" was a letter written to his dad out of the need to find peace from his negative feelings about growing up fatherless.
It became his vehicle for forgiveness. The pivotal poem has touched and inspired the lives of millions. After performing the poem around the country and on "Russell Simmons' Def Poetry" on HBO, the idea for the book Dear Father: Breaking the Cycle of Pain was born.
J. Ivy's honest perspective promises to uplift, inspire and create understanding, acceptance and healing. Ivy says, "If you don't deal with your emotions, one day your emotions will deal with you." His personal yet universal story has inspired others to channel whatever pain they have experienced into their own powerful gift of expression.
A hip-hop poet, recording artist, actor, and motivational speaker, Ivy received a Peabody Award for his performance on "Def Poetry," as well as the Grammy Award for his contribution with Jay-Z on Kanye West's "The College Dropout" album. Ivy also has collaborated with John Legend, RZA, The Last Poets, The Roots, Common, Mos Def, The Black Crowes, Bob Dylan and more. Ivy is a true pioneer and trendsetter who has bridged the worlds of hip-hop and poetry.
Dear Father: Breaking the Cycle of Pain is available at Barnes & Noble at http://www.barnesandnoble.com/w/dear-father-j-ivy/1119478504?ean=9781582705088 and on Amazon.com at http://www.amazon.com/Dear-Father-Breaking-Cycle-Pain/dp/1582705089. Also visit http://www.J-Ivy.com. Like him at http://www.Facebook.com/J. Ivy and tweet him @J_Ivy.