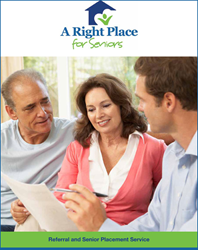 A Right Place for Seniors is the premier senior living franchise opportunity! We've been in the business of helping people with placements for 18 years and we've developed a way to help you, help seniors in your area!
Chino Hills, California (PRWEB) January 28, 2015
With the increasing need for quality home care and assisted living facilities, CEO and President of People's Care, Michael Kaiser RN has announced a new opportunity for individuals to invest in A Right Place for Seniors Franchise. With low start-up costs and no equipment or experience in healthcare required, this is an opportunity to build a rewarding business and capitalize on a rapidly growing market. As of January 2015, A Right Place for Seniors is available for franchise opportunities in Texas, California and Florida, as well as 36 other registered states. (*See footnote below)
There is a rapidly growing population of seniors, ages 65 and up that are requiring assistance beyond what many feel comfortable giving at home. The Bureau for Labor Statistics has projected that the growth of industries related to the care of the elderly will occur at a rate of 70% between the years 2010 and 2020. Franchisee's now have the opportunity to own their own business, complete with extensive training, national marketing, technology solutions and corporate support. A Right Place for Seniors lives up to their name by being committed to providing a valuable service within their community, to individuals and their families.
Michael Kaiser RN, CEO and President encourages individual's that "If you're at all like me, this opportunity will open your eyes and change your life in ways you never imagined." We invite you to visit A Right Place Franchise website for more details on the locations this opportunity is currently available and why this is an exciting healthcare business.
http://www.arightplacefranchise.com
http://www.arightplace4seniors.com
To speak with a representative in regards to this franchising opportunity, call or email:
1-800-804-3840
info(at)arightplace4seniors(dot)com
Currently, the following states regulate the offer and sale of franchise: California, Hawaii, Illinois, Indiana, Maryland, Michigan, Minnesota, New York, North Dakota, Oregon, Rhode Island, South Dakota, Virginia, Washington and Wisconsin. If you are a resident of one of these states, we will not offer you a franchise unless and until we have complied with applicable pre-sale registration and disclosure requirements in your jurisdiction.