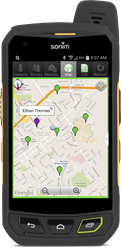 ESChat provides secure Push to Talk communication with real-time situational awareness.
SAN LUIS OBISPO, CA (PRWEB) January 29, 2015
SLA is pleased to announce that Enterprise Secure Chat (ESChat) will be used to provide encrypted Push to Talk (PTT) service and live location tracking on the Public Safety Demonstration Network supporting the 2015 World Alpine Ski Championships in Vail and Beaver Creek Colorado. Joining SLA in support of FirstNet Colorado are Sonim Technologies, Crown-Castle and General Dynamics Mission Systems.
As First Responders converge on Colorado to support the International Ski Federation's World Alpine Ski Championships, they will have an opportunity to use next generation communication technology to enhance public safety. The dedicated Band 14 LTE network provides a high speed wireless data pipeline that is not impacted by the general public. The 700 MHz Band 14 spectrum has been made available with the approval of FirstNet and a grant from the FCC for a special temporary authorization (STA). The network covers the towns of Vail and Beaver Creek, and has been made available by General Dynamics Mission Systems and Crown-Castle.
ESChat is operating on Ultra Rugged Android devices provided by Sonim Technologies. ESChat allows Public Safety the ability to perform secure AES-256 encrypted Push to Talk communications. ESChat will also be providing real-time and historical (bread crumb) tracking capabilities throughout the event. ESChat is the PTT solution of choice for our nation's first responders, including the US Military and Federal, State and Local law enforcement.
"We are honored to provide the PTT solution for the public safety LTE demonstration network," said Josh Lober, President of SLA Corporation. "SLA's ESChat is the most full featured real-time PTT product available today. As a carrier agnostic solution, first responders can operate ESChat on Band 14 or any other available wireless data source, including those provided by the traditional commercial carriers or WiFi."
First commercially deployed in 2008 at Edwards Air Force Base in California, SLA's suite of PTT products has since evolved to include encrypted group text & image messaging, as well as live and historical GPS location services. ESChat has grown into the solution of choice for providing secure cellular Push to Talk services to military, government and commercial business users.
The ESChat product suite supports Android and iOS smartphone devices and personal computers. ESChat also supports a Radio over Internet Protocol (RoIP) interface that allows it to be interfaced to first responder dispatch and Land Mobile Radio (LMR) networks providing a seamless and secure communication environment. ESChat is available on standard mobile phones, smartphones, personal computers and tablets, and is supported by on the Android, iOS, BREW, Linux and Microsoft Windows operating systems. ESChat service is currently available across North America for government and enterprise business customers.
ESChat can be purchased as a monthly service hosted on the Amazon AWS Commercial or GovCloud platforms. ESChat servers can optionally be hosted by the end customer where required. Commercial customers can purchase ESChat from SLA Corporation or through channel partners including Verizon Wireless. Government customers can purchase ESChat direct from SLA or via GSA.
About SLA:
Based in San Luis Obispo, California, San Luis Aviation, Inc. dba SLA is a privately held product development and professional services corporation. Since 1991, SLA's team has been providing solutions for the United States Government for military and space satellite applications, as well as the wireless telecommunications industry. With a seasoned staff of engineering and business leaders, SLA's portfolio of Intellectual Property provides its basis for wireless networks and products deployed throughout the world. SLA possesses expertise in development of first generation through fourth generation (4G) wireless technologies, including CDMA, UMTS, LTE as well as other communication technologies. For additional information, please visit: http://www.slacorp.com.
Press Contact:
For SLA / ESChat
Holly Luban
media(at)slacorp(dot)com