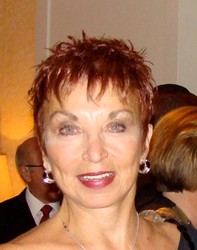 I imagined the entertainment that I could bring there, and I thought 'This will work,' said Jeanie Linders, creator of Menopause The Musical®.
CLERMONT, Fla. (PRWEB) January 30, 2015
Jeanie Linders, writer and producer of Menopause The Musical®, and her E&M Theatrical Inc. company, will manage the Clermont Arts Center theaters. The theater-management agreement calls for Linders, who has 30 years' experience in arts marketing and management, and her veteran team to book entertainment, to manage marketing and advertising and to oversee ticketing for the performance hall and black-box theater at Clermont's Arts Center.
Under the arrangements of the new agreement, the City of Clemont, part of the metro Orlando area, will get a percentage of ticket sales and 100 percent of the profits from food, beverage and merchandise sales related to the productions at the Arts Center located at 3700 S. Highway 27 in Clermont.
"I visited the performance hall before the city even bought the property," Linders said. "I imagined the entertainment that I could bring there, and I thought 'This will work.'"
Clermont City Manager Darren Gray said his staff had explored a number of options on how best to manage the 1253-seat performance hall, the largest in Lake County, and the 246-seat black-box theater. He said E&M Theatrical's proposal made the best sense.
"This is a golden opportunity for Clermont and for arts and entertainment fans across Central Florida," Gray said.
Linders told city officials that she had already started talking to potential acts for a diverse, star-studded season that will run from September 2015 through May 2016. She said she was drawn to Clermont because of its unique makeup, which includes longtime Florida residents, elite athletes, families, retirees, snowbirds and professionals – many of whom work in downtown Orlando and at the theme parks.
Clermont, known as the "Choice of Champions," is one of Central Florida's fastest growing cities. The picturesque city has earned an international reputation as a popular training ground for top athletes, including Olympic medalists, who are attracted to the rolling hills, pristine lakes and warm climate in addition to state-of-the-art training facilities. The city also has a growing number of active 55+ gated communities.
After the Clermont City Council's unanimous vote to approve the agreement, Clermont Mayor Gail Ash told Linders, "Let's go!"