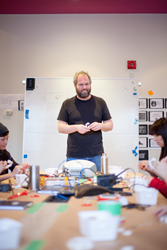 Fuel PlayGround reinforces and expands on a history and culture of creativity, innovation and collaboration within our company
Los Angeles, California & Ottawa, Ontario (PRWEB) January 29, 2015
Digital agency Fuel today announced the creation of a new internal lab focusing on the exploration of new technologies, from projection mapping and 3D printing, to augmented reality installations and robotics. The division will generate new potential services and technologies for integration into client projects, and develop new products and revenue streams for Fuel Entertainment, the company's original I.P. group.
"Fuel PlayGround reinforces and expands on a history and culture of creativity, innovation and collaboration within our company," said Phil Glofcheskie, the PlayGround's co-curator. "With a staff of 150 artists and technologists, and our 15 years of digital experimentation with our clients, we know the lab will create an environment for holistic creativity and invention."
Along with the creation of the lab, Fuel has tapped former QNX Concept Development Group Manager Mark Rigley to help spearhead and grow the initiative. Mark brings a wealth of experience in leading technical and design teams and a personal penchant for industrial, mechanical and software innovation to Fuel's roster. He was instrumental in the creation of the Porsche 911 concept car that took home C.E.S. 2012's Best in Show in the Auto Tech category.
"When CEO Mike Burns approached me and offered me the chance to create, as he put it, 'an underground research facility' for Fuel, I really couldn't resist the opportunity," said Rigley. "We're already working on exciting new prototypes, demos, and displays that we can't wait to show off soon."
Mark joins a team of cross-industry specialists like Gerhard Runken, a veteran of the toy industry, who will help productize the lab's creations. Fuel PlayGround will also be offering Fuel's staff career-expanding workshops and training in emerging technologies – and ample opportunities for staff to explore, build and play within the new shop, housed in Fuel's vast internal film production studio.
"We very much look forward to helping reveal the hidden talents and passions of the staff," said Glofcheskie. "You never know what will emerge when you give talented people an avenue for freeform experimentation."
Fuel Overview:
Fuel™ is a global Youth Engagement™ company that generates deep digital brand and entertainment experiences for kids, tweens, teens and young adults. Fuel's Youth Agency division provides kid, teen, millennial and young-adult-focused marketing to global Fortune 500 brands including Mattel, McDonald's and Microsoft, while its Entertainment studio creates characters, worlds and properties for young audiences. Fuel's recent work includes 'Atari: Game Over' – a documentary detailing the excavation of the legendary 'Atari E.T. tomb'; DreamWorks DreamPlace, an experiential reinvention of the mall Santa experience; McDonald's Happy Studio and its companion augmented reality Magic Camera campaign; and Spark City World, a virtual world for girls for web and mobile. Fuel was founded in 1999 and is based in Los Angeles and Ottawa. For more information, please visit fuelyouth.com