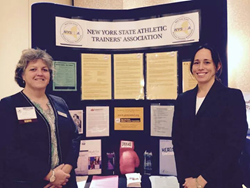 Rochester, NY (PRWEB) January 29, 2015
The New York State Athletic Trainers' Association (NYSATA) has carried out a sports safety awareness initiative over the past two-plus years in NYS to help educate the public, legislators, school officials, medical professionals, and athletic personnel about various health and safety issues, such as concussion, and on the skills, benefits, and knowledge a certified athletic trainer (AT) can provide. Most recently, NYSATA was able to connect with the New York State Association of School Nurses (NYSASN) by hosting an exhibit booth at their annual fall conference on November 8, 2014 in Rochester, NY.
On hand to provide information and network with the school nurses in attendance were NYSATA President, Aimee Brunelle, MS, ATC (Jamestown Community College) and NYSATA Public Relations chair, Kristy Hart, MS, ATC, CSCS (Brockport, NY). Handouts that NYSATA disseminated included information on the educational background and skill-set of ATs, sports-injury statistics, how an AT can provide appropriate safety, prevention, and athletic healthcare for student-athletes, and sample concussion management documents.
"We are excited for the opportunity to work together with the NYSASN toward a common vision. The health & safety of our young student-athletes is of upmost concern, and our every-day relationships with the school nurses will drive this," commented Brunelle following her day at the NYSASN conference. NYSATA was subsequently invited by the NYSASN to consider participation at their spring regional conference and late summer orientation for new school nurses to further interact with their members.
Questions and comments at the exhibit booth focused on how, for those who have worked with one, an athletic trainer enhances the health and safety planning and management in the school district, as well as the importance of communication among all healthcare providers within a school system for optimal care of the students. For those who do not have experience working with an athletic trainer, it was emphasized that ATs can be a resource of information and that NYSATA can be of assistance if a local athletic trainer cannot be found.
NYSATA, founded in 1976 and incorporated in 1989, stands to advance, encourage and improve the profession of athletic training (AT) by developing the common interests of its membership for the purpose of enhancing the quality of healthcare for the physically active in New York State. Athletic training is practiced by certified athletic trainers (ATs), who have expertise in the assessment, emergency management, rehabilitation and prevention of acute and chronic sport-related injuries, illnesses and conditions, including concussions. Comprised of over 1,200 certified and practicing athletic trainers, NYSATA is the state-wide affiliate of the regional Eastern Athletic Trainers' Association (EATA) and District Two of the National Athletic Trainers' Association (NATA).