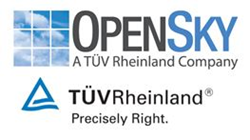 Hartford, CT (PRWEB) January 29, 2015
OpenSky Corporation, an IT consulting firm focused on Transformational IT Infrastructure, Security, and Compliance, has announced that IT security in the healthcare industry will be a top focus for 2015. OpenSky is a division of TÜV Rheinland North America and has extensive experience providing IT solutions to the Fortune 1000 marketplace and strong client loyalty with players that make up the healthcare system, such as hospitals, ambulatory healthcare service, and insurance providers. OpenSky believes that 2015 will be a critical year for many companies within the healthcare industry because moving beyond compliance to focus on the security threats created by cybercriminals is now more important than ever.
Cybercriminals are discovering that healthcare companies are ideal targets. First, many healthcare companies have concentrated on achieving compliance, which highlights the prevention of privacy abuses, and have not spent time understanding their organization's unique security threats. Second, the reward of successfully breaching a healthcare company can be great. While the market for stolen credit cards remains around $1 per card, healthcare records have sold for as much as $500. Finally, innovative technologies, thousands of personal health applications, and the extensive network of third parties that is required to deliver healthcare, multiply the possible attack points that can be targeted by cybercriminals.
"OpenSky can provide valuable insight to help address the unique security concerns of the healthcare industry," said Mark Coderre, National Practice Director of Security Services at OpenSky. "We help healthcare companies move beyond compliance to address serious threats through improving risk monitoring, assessment, and management processes."
OpenSky's consultants average over a decade of experience and have the expertise to provide solutions to healthcare companies at a range of maturities. For example, "start here" companies will be more focused on completing basic compliance requirements; "leaders" are ready to focus on cyber threats and a more robust governance program centered on critical assets and attack scenarios; and finally, "innovators" are companies ready to move to more advanced stages of community sharing, threat anticipation, mature architectural assessments, real time GRC and associated analytics.
"The answers to protecting ourselves and our information are not found in historical healthcare security practices, they are achieved through measurable processes that rapidly consume and leverage risk information relative to the use and development of evolving IT," said Coderre.
About OpenSky Corporation
OpenSky Corporation is part of the TÜV Rheinland group. OpenSky provides information technology expertise to help corporations optimize IT platforms, protect information assets and accelerate the adoption of strategic technologies. It specializes in transformational IT infrastructure, security and compliance consulting. TÜV Rheinland is a $2B global leader in independent testing, inspection, certification, and consulting services. For more information about OpenSky, please visit http://www.openskycorp.com.
About TÜV Rheinland
Founded in 1872, TÜV Rheinland is a global leader in independent testing, inspection, and certification services, ensuring quality, efficiency and safety for people, the environment and technology in nearly all aspects of life. The company maintains presence in 66 countries, employs 18,000 people and has an annual revenue of more than $2.2 billion (€1.6 billion). TÜV Rheinland inspects technical equipment, products and services, oversees projects and helps to shape processes for a wide variety of companies through its worldwide network of approved labs, testing facilities and education centers. Since 2006, the company has been a member of the United Nations Global Compact to promote sustainability and combat corruption. For more information, visit http://www.tuv.com/us.