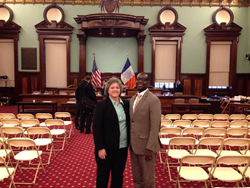 NYSATA is pleased to see the interest ... to create a safety task force... We commend [your] positive and proactive approach...
New York, NY (PRWEB) February 27, 2015
Is it reasonable – and appropriate – to require appropriate medical coverage at youth football practices and games, and possible to do so without causing impossible financial burden on these programs? What other youth sports might be at high risk for concern and could also need similar safety provisions? These are some of the issues being addressed by two introductory bills, Int. 85 and Int. 86, and the focus of a hearing last month in New York City. More specifically, these bills would mandate that a certified athletic trainer (AT) be present at all youth football contact practices and a physician, likely alongside the AT, be present at all games, as well as set up a task force to investigate safety and injury concerns in all youth sports. The hearing comes nearly a year to the day after Councilman Stephen Levin, the sponsor of the two complimentary bills, announced that he would be introducing such legislation.
The New York State Athletic Trainers' Association (NYSATA) was invited to provide representation at the hearing on January 23, 2015, which has held jointly by the Committee on Health and the Committee on Education. Joining a long list of various medical professionals, researchers, school officials, and athletic personnel, NYSATA President, Aimee Brunelle, MS, ATC and NYSATA Region 1-Long Island Representative, James Pierre-Glaude, DPT, ATC, CSCS traveled to New York City to provide expert testimony about the qualifications of athletic trainers (ATs), concussion management, and sports safety issues, including injury prevention and injury rates in contact sports. A NYSATA focus group also prepared a detailed written testimony to provide to the Committee members, which included some recommendations on how to improve the proposed legislation.
Based on NYSATA's examination of the bills, Brunelle commented at the hearing, "NYSATA is pleased to see the interest demonstrated in Introduction number 86 to create a safety task force to collect information and then make recommendations. We commend [your] positive and proactive approach in remedying this issue." She continued, "Introduction number 85 is optimistic, and NYSATA is hopeful with some changes, the bill would be beneficial for the health and safety of our young athletes." The full three-and-a-half hours of verbal testimony of the hearing is available on The New York City Council website under the January 23rd meeting of the Committee on Education.
Given that a primary component of the proposed bills is the inclusion of athletic trainers as an integral part of the sport safety measures and realizing the value that athletic trainers can provide as a sports safety resource, the Committees took notice in the testimony and expertise of the NYSATA representatives and conveyed sincere interest in consulting with NYSATA as the bills continue to be shaped and amended.
Following the hearing, Pierre-Glaude, who is also a faculty member in the SUNY Stony Brook Athletic Training Education Program, was invited to speak on a local cable news program, BK Live, on February 5th to further discuss the proposed bills. He served as the medical expert on a three-person panel which also included bill sponsor, Councilman Levin, and Lloyd Rodriguez, Director of Pop Warner's Brooklyn Pitbulls.
NYSATA, founded in 1976 and incorporated in 1989, stands to advance, encourage and improve the profession of athletic training (AT) by developing the common interests of its membership for the purpose of enhancing the quality of healthcare for the physically active in NYS. Athletic training is practiced by certified athletic trainers (ATs), who have expertise in the assessment, emergency management, rehabilitation and prevention of acute and chronic sport-related injuries, illnesses and conditions, including concussions.
Comprised of over 1,200 certified and practicing athletic trainers, NYSATA is the state-wide affiliate of the regional EATA and District Two of the NATA. The NATA and its affiliate organizations, including NYSATA, work to provide educational materials and guidelines for various health and safety issues and provide endorsement of outside organizations that also provide valuable educational tools and information.