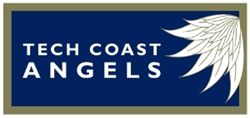 Irvine, Calif. (PRWEB) January 29, 2015
Tech Coast Angels (TCA) invested a total of $16,373,337 in 61 total deals in Calendar Year 2014. The angel network announced that 2014 was the most active year since the network's inception in 1997 for number of deals funded, and capital raised was also the largest ever. TCA's five networks throughout Southern California invested in a variety of industries last year, including consumer goods, healthcare, biotechnology, HIPAA-compliant data storage, social networking, organic agriculture, and automobile technology.
In 1H 2014, TCA investments totaled $6,321,874 in 27 total deals. 2H 2014 saw a nearly 60% increase in the amount of total investment from the first half of the year, with $10,051,463 in 34 total deals.
Compared to 2013, the angel network increased its total investment portfolio by nearly 12%, from $14,639,612 million in 2013 to $16,373,337 in 2014.
After four successful exits in 2013 (Cognition Technologies, GreenDot, Lend Amend and Trius Therapeutics), 2014 brought five more positive exits with AIRSIS, Allylix, Bluebeam Software, Hookit (formerly Loop'd Networks), and Mindbody Software.
TCA's portfolio of new deals for 2014 include: Aggregage, Apeel Sciences, Ascendant Spirits, Beacon Healthcare, Edufii, Fusion Brake, GoBookIt, ImmunoGum, iPourIt, LeaseLock, Neural Analytics, Parcel Pending, Perfectna, Portfolium, Respiratory Motion, RetroSense Therapeutics, Ring Router, Schlep & Fetch, Soma Bar, Spine Innovation, The Influential Network, TrueVault, Unlicensed Chimp Technology, and WeGoLook.
"We are excited by the quality and unique breadth and scope of these great, young, mostly Southern Californian companies that we can support through our experience and capital," said Michael Green, TCA incoming chairman. "We look forward to continuing to find, hone and cultivate the many outstanding early-stage companies in our community in 2015."
About Tech Coast Angels:
Tech Coast Angels (TCA) is one of the largest angel investment groups in the US. The group comprises over 300 angels with experience in almost every industry (not just technology), and its network spans five regional areas in Southern California: Los Angeles, Orange County, San Diego, Santa Barbara/Westlake, and the Inland Empire. TCA is the leader in providing funding, guidance, mentorship and leadership experience to early-stage, high-growth, exciting companies in Southern California. In 2013, TCA invested over $14.6 million in 50 companies, and was listed by The HALO Report as one of the three most active angel networks in the United States. In 2014, TCA invested over $16 million in 61 deals, which were near-record numbers in the angel investor network's history, and CB Insights ranked TCA ahead of all other angel groups as having the strongest network in the country.
Since 1997, Tech Coast Angels have invested over $150 million in more than 275 companies and have helped attract more than $1.5 billion in additional capital/follow-on rounds, mostly from venture capital firms. These investments were in a wide range of industries including biotech, consumer products, social/mobile, IT, life sciences, media, software, environmental, and tech startups. For more information, please visit http://www.techcoastangels.com.
###