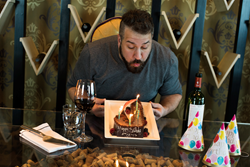 Miami, FL (PRWEB) January 29, 2015
Karisma Hotels & Resorts welcomed Joey Fatone to Generations Riviera Maya, by Karisma, to celebrate his birthday this month and kick off the yearlong special guest star series, Celebrations at Generations Riviera Maya. He is the first of many special guests stars such as authors, sports stars, actors and musicians from popular TV shows like The Voice, and American Idol, to celebrate a birthday at the resort with the guests.
Fatone arrived to the resort VIP style and was greeted by his personal butler. With a bottle of champagne and a private cabana to lounge on, it was the perfect start to a celebration vacation. The party continued with a private chef's dinner and a surprise birthday cake and candles. It was a night to celebrate Gourmet Inclusive® style! The next morning he recovered from all the fun with a relaxing Temazcal ritual at Náay Spa.
Guests are also invited to celebrate their birthday and life's milestones in paradise! When guests book a trip to Generations Riviera Maya by Karisma within the month of their birthday, not only do they receive the all suite, all butler and all gourmet experience, they too will enjoy a star-style birthday celebration with the Celebrations at Generations Riviera Maya VIP Birthday Package. From a chef inspired birthday menu with a gourmet cake, a private beach cabana and spa treatments to a celebrity photo op, and free Wi-Fi to share all the special moments with friends back home, this package highlights all of the luxury amenities Generations Riviera Maya by Karisma offers to vacationers.
February is right around the corner and the next special guest star is gearing up to celebrate. The birthday surprises will begin to be unveiled on Karisma Hotels & Resorts social media pages. Like and follow @karismahotels for a year of surprises, special offers and chances to win a star studded birthday celebration.
###
About Karisma Hotels & Resorts:
Karisma Hotels & Resorts, an award-winning luxury hotel collection which owns and manages properties in Latin America, the Caribbean and Europe, comprises an impressive portfolio including El Dorado Spa Resorts & Hotels, Azul Hotels & Villas by Karisma, Generations Resorts by Karisma, Allure Hotels by Karisma and Karisma Hotels Adriatic. Properties have been honored with the industry's top accolades including Conde Nast Traveler's "Top 100 Hotels in the World," Conde Nast Traveler's "Top 30 Hotels in Cancun," TripAdvisor® Traveler's Choice "Best Hotels for Romance," and AAA's "Four Diamond Award." Karisma has received worldwide recognition for its creative approach to hospitality management and product innovations. For reservations and a full list of Karisma properties, please visit http://www.karismahotels.com.
About Alliance Connection, Inc.: The leading strategic partnership-marketing firm in the United States specializes in identifying, designing and building strategic partnerships and promotions to grow business and exceed expectations. Alliance Connection is a diverse portfolio with one common thread: creating a connection between companies and consumers. Alliance Connection Productions, a branch of the company, produces experiential marketing solutions for the hospitality industry and is the strategic marketing firm for Premier Worldwide Marketing the worldwide representative of Karisma Hotels & Resorts. http://www.allianceconnectionproductions.com.