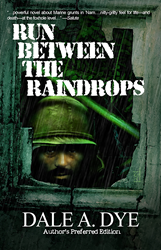 "This story is told in a voice that reflects the Code of the Grunt: Just do it—or die trying."
Los Angeles, CA (PRWEB) February 03, 2015
Warriors Publishing Group (WPG) announces the release of Dale Dye's fully updated and revised novel, "Run Between the Raindrops", originally published in 1989, now re-issued in an Author's Preferred Edition. (Trade paperback, February 2, 2015, 978-0-9897983-7-29, $14.95; Open Road Media ebook, February 2, 2015, 978-1-453292-8-15, $9.99).
Nearly half a century has passed since Marine veteran Dale Dye fought in Hue during the 1968 Tet Offensive. That brutal experience prompted him to write a searing, critically acclaimed novel about the surreal experiences of the battle to wrest control of Vietnam's ancient Imperial capital from regiments of fanatical North Vietnamese Army soldiers.
Of that effort, Soldier of Fortune magazine noted, "Run Between the Raindrops will live on as one man's epitaph to a generation because it captures so well the pathos, the very personal struggles and conflicts that characterized the lives of thousands of people who left The World to fight a war…"
Now Dye has taken a long second look at that fight and re-worked his original story into an even more powerful narrative of one of the Vietnam War's most brutal battles. As seen through the eyes of a veteran Marine Corps Combat Correspondent with the observational skills and off-beat attitude to relate what he sees—from the close-quarter, house-to-house meat-grinder of the southside to the epic assault on the enemy-infested walls of the city's medieval Citadel—this story is told in a voice that reflects the Code of the Grunt: Just do it—or die trying. There it is.
Marine officer Dale A. Dye rose through the ranks to retire as a Captain after 21 years of service in war and peace. Following retirement from active duty in 1984, and upset with Hollywood's treatment of the American military, he went to Hollywood and established Warriors, Inc., the preeminent military training and advisory service to the entertainment industry. Dye has worked on more than 50 movies and TV shows, including several Oscar-and Emmy-winning productions. He is a novelist, actor, director, and show business innovator, who wanders between Los Angeles and Lockhart, Texas.
"Run Between the Raindrops" is published in trade paperback through Warriors Publishing Group and as an ebook through a partnership with Open Road Integrated Media. Available now through your favorite online retailer.
WPG is dedicated to connecting readers to the best in military fiction and nonfiction. For review copies or further information, contact Warriors Publishing Group.