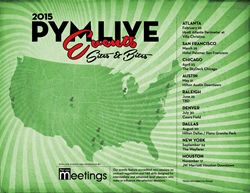 PYM LIVE Events are road shows where we get to introduce local meeting and event planners to the best people, resources, trends and technology available.
Atlanta, GA (PRWEB) January 29, 2015
Known for its innovative approach to training meeting and event planners, media company Plan Your Meetings will be bringing its PYM LIVE Events to nine U.S. cities in 2015: Atlanta, San Francisco, Chicago, Austin, Raleigh, Dallas, New York, Denver and Houston. Each half-day event provides 1.5 clock hours of education as well as a full spectrum of inspirational event design ideas, hands-on tech play and the opportunity to have one-on-one meetings with sales representatives from leading hotels, destination marketing organizations and other meeting industry suppliers.
"What sets PYM LIVE Events apart from other 'meetings about meetings' for event professionals is that we don't lecture attendees on trends and technology and tell them what to think; we give them the opportunity to play with new technology and design formats so they can develop their own real-life solutions and applications based on the live event experience," says Kristi Casey Sanders, PYM's vice president of creative/chief storyteller. "We also leverage new tech and trade show formats to help our exhibitors connect with meeting planners in real relaxed, relevant and engaging ways so they can form the most rewarding, long-lasting business relationships possible. Our events are free for qualified meeting planners, but they're a far cry from traditional hosted buyer shows where the relationship between planner and supplier is commoditized. We think of our events as road shows where we get to introduce local planners to the best people, resources, trends and technology available."
PYM LIVE attendees begin experimenting with new technology from the start: the website and registration pages are powered by mobile app company Topi, which launched both offerings less than a month ago.
"What's brilliant about Topi's new website and registration tool is that it's tied to your mobile app dashboard," Sanders explains. "That means you only have to enter your agenda, event info, and upload your sponsor and exhibitor logos once rather than have to do it on different platforms. Everything is updated on all your marketing channels in real time; it's a huge time saver. The event site looks modern, you can track visitor traffic with Google Analytics, and it promotes the conference app to your attendees from the very beginning to increase adoption rates. Our attendees are among Topi registration's first beta users. Just two weeks into the promotion of our first 2015 event, we're already at 80 attendees and they're telling us they're thrilled with the user interface and experience."
After registering, attendees are invited to join a Pathable-powered online community where they can research who else is coming, make 1:1 appointments with exhibitors and network with other attendees.
"It's exhausting and logistically impossible to meet 40 or 100 people during a four-hour event" Sanders says. "So it makes sense to extend the life of the event virtually. Onsite, we offer a round of speed-meetings where you get to meet people we think you'll benefit from knowing. But Pathable gives our attendees and exhibitors the power to research whom they need to meet and the tools to schedule those meetings before, during or after PYM LIVE."
At the event, attendees will play with CatchBox, a throwable microphone for icebreakers and interactive Q&As that's making its stateside debut. There will be beacons, also powered by Topi. And to help attendees mentally and physically transition from one phase of the event to the next, X bytes on-demand video fitness breaks from Exercise Bytes will be featured.
"X bytes by far was the most successful experiment we conducted last year," Sanders says. "We're excited to show people their newest videos because they're powerful reminders of how important it is to take care of yourself and the needs of your attendees."
###
ABOUT PLAN YOUR MEETINGS
Plan Your Meetings is the meeting industry's most innovative media company. In addition to providing education and inspiration to its community of U.S.-based corporate meeting and event planners, it leads the industry in developing some of the most effective and forward-looking multi-channel marketing programs for its hotel, CVB and meeting industry supplier partners. Companies interested in exhibiting at or sponsoring PYM LIVE Events can register here.