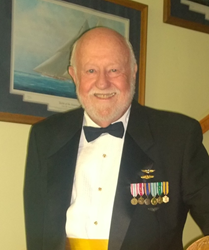 The news that Prof. Thomas was coming to DITEC 2015 has created a buzz with our attendees, who are eagerly anticipating the opportunity to hear such a prominent expert sharing reflections on his craft
(PRWEB) January 29, 2015
The organizers of the Defence Innovation and Technology Conference (DITEC) 2015, are thrilled to announce the eminent Professor Guy Thomas as a headline speaker for the inaugural event, to be held on 25th February in Abu Dhabi. The first conference of its kind in the region, DITEC 2015 promises to establish an open and enduring platform for the international defence community to discuss and foster innovation and technology. Hosted by the Abu Dhabi Technology Development Committee (TDC) and with the official support of the UAE Ministry of Defence, DITEC 2015 will be an integral part of the International Defence and Exhibition Conference (IDEX), and will be the largest defense conference at IDEX 2015.
Currently President of C-SIGMA Ltd., Prof. Guy Thomas is a former Science and Technology advisor to numerous US Government Agencies, including DARPA. Prof. Thomas has been involved in all environments of maritime surveillance for more than 40 years, including a combined 32 years in the United States Navy, Coast Guard and Air Force and 9 years at Johns Hopkins' University researching Applied Physics. As Science and Technology Advisor - Maritime Domain Awareness, for the US interagency office for 7 years, he conceived and helped design space-based Automatic Identification Systems (AIS), and Collaboration in Space for International Global Maritime Awareness (C-SIGMA), which contributed to the US NATIONAL SPACE POLICY (2010).
Prof. Thomas directed the introduction of the NAVY EP-3E to the US Pacific Fleet and then, globally, the US Air Force's Rivet Joint Block III, RC-135W/V. He was the first person ever to be authorized to wear both US Navy and Air Force wings at the same time and was also the first person in the US Navy to be qualified in 4 distinct warfare areas: surface, subsurface, air and space.
Thanking Professor Thomas for confirming his participation in DITEC 2015, Faisal Al Hmoudi of the Abu Dhabi Technology Development Committee (TDC) said, "We look forward to Professor Guy Thomas sharing some of his extensive knowledge of defense-related research and development and, in particular, his unique experience delivering Automatic Identification Systems from concept through to application. Prof. Thomas' extraordinary professional achievements speak for themselves; his participation at DITEC 2015 will be a great contribution greatly contribute to the outcomes inspire future inventors in the UAE that follow in this sector."
Professor Thomas, in accepting his invitation, said: "This conference is unique in its ambition to address the challenges and opportunities of tomorrow in a truly collaborative way. I look forward to the opportunity to share my expertise with an audience convened for the purpose of creating a more secure, inclusive, world".
DSMC Chairman Matthew Cochran said, upon hearing of Prof. Thomas' confirmed attendance: "The news that Prof. Thomas was coming to DITEC 2015 has created a buzz with our attendees, who are eagerly anticipating the opportunity to hear such a prominent expert sharing reflections on his craft".
DITEC 2015 is hosted by the Technology Development Committee (TDC), which was established to encourage and support the development of Science, Technology, and Innovation in Abu Dhabi. It is a multi-stakeholder government body that interfaces between government, business, and academia to realize a sustainable, diversified, and knowledge-based economy.
TDC launched 'Takamul' in 2011 to generate economic and societal value in Abu Dhabi and the UAE by fostering the development of innovative ideas. This program supports innovation within knowledge-intensive industries, and aims to transform locally generated ideas into commercial enterprises to support economic advancement.
For more information, please visit the DITEC website at http://www.ditec.ae.