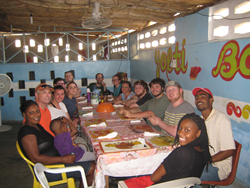 "When a young person experiences the living conditions and lifestyles of those less fortunate, compassion is stirred and they see their world through new eyes." Kami Naber Missions Director at Life Christian School
Portland, Oregon (PRWEB) February 03, 2015
Apathy is an ever-present resident in the hallways of American High Schools. Although this generation has access to global information at their fingertips, too many would rather take selfies, and hashtag their SnapChat photos than care about how they can help their world. However, two organizations in Portland, Oregon, are trying to change how youth see and engage with their world. Ncompass and Life Christian School have teamed up to impact youth in a non-traditional way – by sending them to one of the poorest countries in the world for a week.
Each year, Life Christian sends their high school students on an educational missions trip. Some teams stay more local, and others require passports. The purpose of each trip is to expand students' perspectives, increase their empathy and teach them in ways a classroom cannot. Last year, Life Christian paired up with Ncompass to send one of their student teams to Haiti. Ncompass is the sole partner to the Maranatha House Orphanage in Titanyen, and believes in the impact teams have – not just on the people they serve alongside in Haiti, but on the travelers themselves. Kami Naber, Missions Director at Life Christian shares this view. "An international outreach opportunity is transformational in every person's life, but especially in the young impressionable mind of a youth. When a young person experiences the living conditions and lifestyles of those less fortunate, compassion is stirred and they see their world through new eyes. This impact on them causes them to want to make a difference in their world."
This March, Life Christian will be sending 11 juniors and seniors back to Haiti, to serve along side Ncompass and the Haitian staff at the Maranatha House. They will have the opportunity to teach hands-on science and art lessons, and observe Haitian education at the school Ncompass's children attend. They will also take what they've been learning in their environmental science classes to help bring biosand water filters to families in need, and help to upgrade a solar panel system. Beyond serving, they will have a week to share Christ's love with beautiful people by sharing life together. "People just want to be heard, but even more, they want to be remembered," says Zach Kenniston, a junior at Life. Zach is also really looking forward to meeting a boy who lives at the orphanage named Daniello. The Kenniston family started sponsoring Daniello's education last fall, and Zach will get to see first hand how having the opportunity of education impacts a person in Haiti.
"We are really excited for the opportunity to bring young people alongside our mission to serve, empower and develop today's youth," says Katie Matheny, Haiti Operations Director at Ncompass. "Kids are the future. Both kids in the US and Kids in Haiti - we're excited to see how trips like these can impact their future, and ours!"
For more information about Ncompass and their work in Haiti, visit http://www.worldncompass.org or you can contact katie.matheny(at)worldncompass(dot)org.
For more information about Life Christian School and their missions trips, visit http://www.lcslions.org