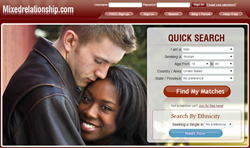 Los Angeles, CA (PRWEB) January 29, 2015
Segment leader InterracialMatch.com recently launched a new dating platform, which aims to cater to the diverse needs of people seeking an interracial relationship.
A spokesperson from the website was reported as saying, "MixedRelationship.com had changed the face of online interracial dating in the past and I am sure history is about to repeat. Users will certainly love using this site. We have revamped almost every feature in order to make it useful for those looking to date outside their race. We have also made significant changes to our privacy norms and anti-spam algorithms, so that members can use this site without any hesitation."
The trend of online interracial dating has gained popularity in the recent years. Dating experts believe that interracial dating gives a person an opportunity to explore different cultures and traditions. In an exclusive interview with a dating firm, Sociologist Roman Emery said, "Every year thousands of people migrate to America. We come across a lot of people of different races in our everyday life. As a result of this, people aren't hesitant to get into an interracial relationship. In fact, a lot of people look forward to dating a person from outside their race."
MixedRelationship.com is an online dating platform exclusive to interracial dating. Users can join this site for free and create their profile. Users can also upload their pictures, exchange emails and instant messages, participate in discussions and read informative blogs on interracial dating. Apart from this, registered users can also maintain a "favorites list". The website also sports an extensive FAQ section in addition to a dedicated customer service department.