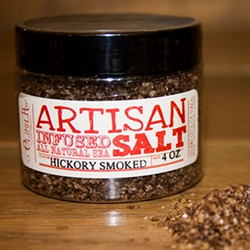 "...It offers budding chefs the ability to truly experiment with their cooking."
(PRWEB) January 31, 2015
Italian food specialist, Gourmet Italian, is pleased to carry a new line of artisan salt and sugar options from Olimila. Product options include a variety of flavors, all made from quality ingredients. Olimila salt and sugar options are now available at the Gourmet Italian food store at GourmetItalian.com.
Gourmet Italian's inventory includes the full line of Olimila salts in their online food store. This array of savory flavors starts with quality sea salt that is infused with a variety of raw, natural ingredients to produce a truly exceptional product. These artisan salts are made of quality ingredients and offer customers a healthier and tastier alternative to seasoning foods than plain table salt. In addition, these flavorful sea salts are excellent for use in brines and meat rubs.
Gourmet Italian is offering the following Olimila artisan salt options:
Hickory Smoked Sea Salt Durango
Himalayan Pink Salt (Fine Grain)
Lemon Twist Salt
Ghost Pepper Salt
Roasted Garlic Salt
Spanish Rosemary Salt
Toasted Onion Salt
Black Truffle Sea Salt
Scorpion Diablo Sea Salt
Gourmet Italian is also pleased to carry the full Olimila line of flavored sugars. The products begin with natural, raw cane sugar before introducing quality flavors that range from sweet to spicy. These infused sugars are a tasty choice for baking pastries, spooning into sauces, sprinkling over desserts, or mixing with sweet or salty drinks.
Gourmet Italian is offering the following Olimila infused sugar products:
Cinnamon Infused Sugar
Clove Infused Sugar
Dark Cocoa Infused Sugar
Ginger Infused Sugar
Lemon Infused Sugar
Habanero Infused Sugar
Toasted Coconut Infused Sugar
Gourmet Italian added the new line of Olimila products because of their high quality and nearly endless flavor combination options. "These products are made to exceptional standards," says Gourmet Italian. "Plus, the variety of flavors can be enjoyed on their own, or combined together to create new flavor profiles. It offers budding chefs the ability to truly experiment with their cooking."
The complete line of Olimila sea salt and sugar products can be purchased on the Gourmet Italian website. They make a delicious gift for a friend, and a quality pantry staple in any home or commercial kitchen.
Wholesale Food Network LLC operates out of Youngstown, Ohio, and has been doing business under the "Gourmet Italian" name since January 2009. For more information on any of their products, please visit the Gourmet Italian food store website.
Contact Information
Wholesale Food Network LLC, d.b.a. Gourmet Italian
http://www.gourmetitalian.com
gourmetitalian(at)gmail(dot)com
866.460.0396