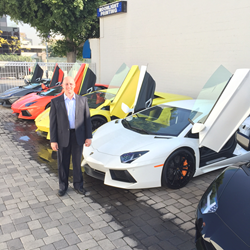 Our VIP events at Lamborghini and Aston Martin of Beverly Hills offer the definitive driving experience, including ride-and-drive incentives, with further exciting developments underway.
Beverly Hills (PRWEB) January 29, 2015
Part of the elite and worldclass, or looking to join? Beverly Hills' preeminent O'Gara Coach automotive company revs up the action with its private label store, Lamborghini and Aston Martin of Beverly Hills, gearing to host a series of VIP events at the Thermal Club lush racegrounds, located near Palm Springs. Exclusive pass privileges will be offered to members at a next event on February 1, featuring its Lamborghini vehicles.
A one-of-a-kind opportunity, Lamborghini owners and drivers are invited to join the luxury sportscar company's special hosted event at Coachella Valley's hottest spot, where players play – the exclusive Thermal Club. A fascinating, eclectic and luxurious community building traction among exotic car owners. Interested participants should get in gear to 'club it' with Lamborghini and Aston Martin of Beverly Hills' in-demand pass to the Thermal Club. Parties looking to attend are encouraged to inquire about Club membership if not enrolled.
Things get hot when purchasing a Lamborghini… they get hotter when taking these luxury wheels for an exclusive *Members only* Thermal racetrack spin. Imagine that you've just purchased your first 6-digit supercar. It's sleek. It's sexy. It can go from 0-60 in three seconds. And it has a top speed of 220 miles per hour. Now picture an exclusive refuge for sportscar enthusiasts – Thermal Club – the premier private motorsports facility in the world.
For the many Lamborghini owners looking to take their captivating lives to this heightened level of experience, the dealer proudly brings them to Thermal's ultra luxe special place for its next featured event on February 1. Lamborghini and Aston Martin of Beverly Hills provides this exceptional opportunity so customers may get the most bank for their sportscar investment. When customers purchase a Lamborghini from O'Gara Coach, they connect with an elite club of enthusiasts who love driving and experiencing the joy of exotic car ownership. This special event is part of keeping this fantastical auto lifestyle in motion for its prestigious clientele.
Customers choose a lane that leads to unique driving opportunities and celebrations of an unparalleled racing heritage. These special events, to continue being hosted on a monthly basis by the automotive company, are anticipated to be the must 'go-to' exclusive happening for Lamborghini and Aston Martin connoisseurs looking to take vehicle ownership to the ultimate next level of driven experience – on Thermal's private track.
Further featured events include the dealer's Aston Martin vehicles; with a previous occasion that took place January 24 spotlighting the exclusive make. Offered through Lamborghini and Aston Martin of Beverly Hills (the exotic sportscar connoisseur's go-to source), participants will continue to enjoy taking their elite wheels out for an extraordinary driver affair at Thermal.
"Our VIP events offer the definitive driving experience, including ride-and-drive incentives, with further exciting developments underway," states Seth Waskow, General Manager at Lamborghini and Aston Martin of Beverly Hills. "Enthusiasts can expect to revel in a heightened sensation and overall experience of owning and operating these incomparable automobiles."
Those engaged in the joy of owning exotic cars should set their calendars for February 1 to vroom to the dealer's s next featured event for Lamborghini at the Thermal Club.
As a member of the luxury driven class, buying a Lamborghini is like buying a Tuxedo to wear to a good party. Now owners of this worldclass sportscar can 'bring it' to the automotive company's momentous toast, celebration and spin at Thermal.

Owners/drivers can bring their own cars or enjoy a select fleet of race-prepped vehicles (exclusively available for members and guests).
Receive expert training from professional drivers and learn about the full potential and capabilities of these vehicles.
Enjoy this one-of-a-kind occasion directly with Thermal instructors, each heavily involved in the motorsports industry.
Whether turning laps on the racetrack, polishing one's car for a show, taking long scenic drives, or cruising under the stars on a balmy desert night, the Thermal Club is a perfect venue for communing with that automotive spirit.
Looking to enjoy a rare and exclusive opportunity to learn and drive a Lamborghini on one of the highest quality racing facilities in the world? Then come out and play with Lamborghini Beverly Hills on Thermal's purpose-built racing circuit – February 1.
DRIVE IT. STORE IT. TRULY LIVE THE NO-HOLDS BARRED LIFESTYLE AT THERMAL!
The Club lifestyle further boasts multimillion-dollar villas, each designed to house an elite car collection. Worldclass amenities are also provided for the entire family, including a clubhouse and an elite village unrivaled in the motorsports world.
Privileges of membership are exclusively available on Thermal's 4.5 mile private track and playground in California's lush Coachella Valley, accommodating the finest country club luxury lifestyle experience for exotic car owners.
Where the road leads is up to the driver, but Lamborghini and Aston Martin of Beverly Hills will see that its clients arrive in the style they deserve. Join their elite fest at Thermal Club this year!
The O'Gara Coach Company also deals Bentley, Rolls Royce and Bugatti vehicles. Exemplary and unsurpassed, O'Gara Coach is the foremost car culture brand of Beverly Hills - the lifestyle and the standard. The luxury dealer offers a journey that begins with a customized buying process and accelerates toward exclusive access to a world of thrilling experiences.