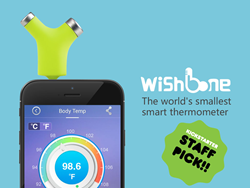 Joywing's upcoming Wishbone may just tackle all of the temperature measuring problems in one fell swoop
New York, NY (PRWEB) January 29, 2015
Developed by technology startup Joywing, 'Wishbone' is a state-of-the-art, non-contact smart thermometer that works with smartphones. The product features a unique Y-shaped design that is both easy to use and can accurately detects body temperature in under 2 seconds. The Joywing team developed Wishbone with parents in mind and is aimed to solve the challenges of measuring a crying baby's temperature. They launched a crowd funding campaign on Kickstarter on January 27th, 2015 with the goal of raising $20,000 by February 26th, 2015. The campaign has received many pledges, Kickstarter Staff's Pick recognition and reached 250% of its goal in under 2 days.
"There's no shortage of smart thermometers out there, but they tend to have one or more catches: many only work in , certain conditions or require some kind of contact," notes journalist Jon Fingas in his recent Engadget article. He goes on to say, "Joywing's upcoming Wishbone may just tackle all of those problems in one fell swoop."
In additional to its ability to measure body temperature, Wishbone can also measure object and ambient temperature. These features are handy for parents who want to know if the milk is too hot or if the weather has turned chillier. The device's own mobile application boasts some key features, such as the ability to store historical data which can be viewed at a later date for analysis and reference. This feature is particularly helpful for parents monitoring their baby's recovery from illness or for couples that are trying to conceive. Wishbone's unique Y-shape is designed for better viewing angles while operating it and it is the only smart thermometer that is compatible with both Android and iOS devices.
Wishbone is set to include added temperature readings of 'Object' and 'Ambient' modes and are both under active development. Because of the company's limited resources, their programmers are focused on getting the 'Body' mode ready first with the funding of the Kickstarter campaign. Joywing expects to deliver the Object and Ambient modes in July 2015. However, if the campaigns initial goals are met, they intend to hire additional developers to speed up this process and work to delivering these modes at the same time as Wishbone ships in worldwide in April 2015.
Founded in 2014, Joywing Tech is a multinational team of engineers, technologists and designers with diverse backgrounds. As parents themselves, they developed Wishbone with the intent of making life a little easier for others, but especially for parents.
Joywing team members are professionals with full-time jobs and family responsibilities. They have extensive experience in hardware and software development and are dedicated to making Wishbone an an effective product for the masses. It is their belief that Wishbone can really help their users by providing timely and accurate temperature readings. Their goal is for the Wishbone thermometer to experience a successful launch and gives parents some much-needed peace of mind.