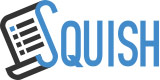 Track product development, client requests, software bugs, help desk tickets, tasks, and more.
Calverton, Maryland (PRWEB) January 30, 2015
IMS is pleased to announce the release of Squish 7.0 project management software which has special enhancements to make it an even more efficient collaboration software. In addition to performance enhancements, which have significantly improved platform responsiveness, additional features are also included in the release. Issue submission via email is now possible and companies can now configure their homepages to keep priority issues at the forefront. Also, increased security provisions provide the ability for management to employ company level password requirements.
A leading competitor in the task management software field, Squish 7.0 is a cloud-based tool that allows employers, employees, and customers to easily track company projects. It keeps all necessary parties engaged in the status of their requests, resource allocation, and decisions made along the course of a project. The Squish 7.0 updates flex the project management tool's increasingly adaptable capabilities to fit your organizational needs and truly allow you to manage your work your way. Visit http://www.squishlist.com to get further information on Squish.
Squish is a product of Information Management Services (IMS), a company with over 40 years of experience in developing software and IT management solutions for use at the company or corporate level. Squish was originally developed for IMS's in-house bug "squishing" needs but is now a solution that IMS offers for any company's project tracking needs. To learn more about IMS products go to http://www.imsweb.com.