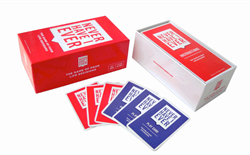 It's official! We've found our new card game obsession.
Gaithersburg, MD (PRWEB) January 30, 2015
The popular college drinking game, "Never Have I Ever" made headlines last week after being played on The Ellen Degeneres Show by Johnny Depp and Gwenyth Paltrow and again on the Today Show with its cast. But what may be more surprising than Al Roker having sexy dreams about his co-anchors, is that INI LLC owns the trademark to the game "Never Have I Ever" and recently launched a hilarious card game version called, Never Have I Ever, the game of poor life decisions.
"Never Have I Ever, the game of poor life decisions has the same principles as the game you played in college, said INI CEO/Founder, Jay Vohra. "But this version is designed for adults and we think it's pretty awesome."
Never Have I Ever, the game of poor life decisions, presents a chance to relive life's funny, embarrassing and awkward moments with your friends. The game includes 485 Play Cards with examples of poor life decisions and 65 Rule Cards that provide different directions for reach round of the game. Still feel weird about the time you called someone the wrong name during sex? How about when you got arrested for public urination? What may have seemed like a bad idea at the time now earns you points and helps you win the game.
How To Play
Each player gets 10 Play Cards to start. The first person draws a Rule Card and reads the directions out loud. Players will follow the directions on how to engage with the Play Cards, but ultimately players will admit if they're "guilty" or "not guilty" of a Play Card. If the player is "guilty" they get to keep the Play Card, if they're "not guilty' they discard it. First person to collect 10 Play Cards wins.
Rules
Only one rule – No judgment.
Availability
The game is available on Amazon.com for $25. With hundreds of reviews, it's already on Amazon's Best Seller lists and reviewers are saying:
"My prediction is that this game will be the new best thing. It takes us back to when board games were fun and away from electronics which don't allow us to really get to know each other."
"What a great party game! Learn things you never knew your friends were capable of and some things you really didn't want to know lol."
"Finally had the chance to play this game and definitely this game is a must. If you enjoy Cards Against Humanity, you'll enjoy this game."
About INI, LLC
INI, LLC (Ideas Never Implemented) is built on the philosophy that games serve multiple purposes – entertainment, education, escape and much more. In a world where myriad technologies enable communication without personal engagement, old-fashioned games with a modern sensibility can bring people together as no other innovation can. From party games for adults to children's games, INI creates boundless entertainment for people of all ages.