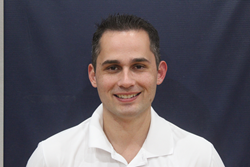 Willoughby, OH (PRWEB) January 30, 2015
Andrews Osborne Academy is thrilled to welcome James Valle as our next Director of Athletics. James will be joining the AOA staff effective July 1, 2015.
Mr. Valle has a B.S. in Political Science and a Master's degree in Public Administration from Florida International University. He brings nine years of experience as an Athletic Director, Head Coach, Director of Summer Sports Camps, and Physical Education/Health teacher. James will finish the year at Palmer Trinity School in Palmetto, Florida, before relocating to Ohio to begin his tenure at AOA.
When asked how he felt about coming to AOA, Mr. Valle had this to say: "I want to thank Dr. Goodman and all of the AOA community for welcoming me and my family into their wonderful community. I'm excited to get to work with such a professional group of people to take AOA Athletics to new heights. It was a difficult decision to leave Miami and Palmer Trinity School, however, the opportunity to come into such a great school and community was impossible to pass up."
Andrews Osborne Academy (AOA) is an independent, coeducational, college preparatory day (grades Pre-Kindergarten through 12th) and boarding (grades 7-12) school near Cleveland, on a 300-acre campus located in Willoughby, Ohio. Our Academy offers elementary, middle and secondary education to committed students in a multicultural setting. Contact the Office of Admission to arrange a tour at 440-942-3600.