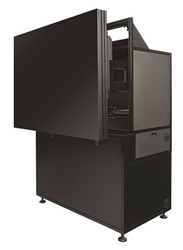 San Diego, California (PRWEB) February 19, 2015
Christie® visual display solutions were in full view at Booth #4531 at San Diego's DistribuTECH , February 3 – 5. The company demonstrated powerful control room solutions that ranged from the innovative Christie Entero™ HB 70-inch HD front access video wall cube, to the bright and seamless Christie Velvet™ high-resolution LED tiles, which feature stunning visuals. Also on display were the Christie Phoenix® network distributed open content management system.
Rounding out the Christie display at DistribuTECH were best-in-class ultra-narrow bezel flat panels that included the 46-inch Christie FHD461-X flat panel and the 55-inch Christie FHD552-X flat panel – both professional grade, high-definition flat panels for tiled display walls.
Christie's control room solutions are part of next-generation installations at major utility companies globally such as India's North Eastern Electric Power Corporation Limited​ (NEEPCO), under the Ministry of Power, which covers 47 percent of the total electricity consumption of the north eastern region and American Water, a leading provider of high-quality water and waste-water services in the United States and parts of Canada.
Control room visual displays at the Christie booth include:
Christie Entero HB 70-inch HD front access display cube – The Christie Entero HB series is the first and only LED cube to offer wireless control through Wi-Fi® capability. A motorized, 6-axis adjustment system for easy front access offers wider installation flexibility. Designed for zero maintenance, the Christie Entero HB is an excellent option for installations that need true HD LED display cubes in a 70 inch 16:9 form factor.
Christie Velvet 2.5mm indoor LED tiles – Offering high resolution images and scalable for full display wall flexibility, the Christie Velvet series of LED tiles provides a maintenance-free solution for eye catching installations. Configurable into video walls of virtually any size or shape, they feature low energy consumption, long service life, and true 24/7 operation.
Christie Phoenix – A network distributed open content management system at its core, the Christie Phoenix redefines mobility, enabling seamless access and control of audio-visual data, regardless of the user's location. A true industry "game changer," the Christie Phoenix can simultaneously encode, decode, and display any source of audio/visual information found in a control room environment.
Christie FHD461-X 46-inch HD LCD display – Featuring tight seams, and high image quality the Christie FHD461-X offers dazzling, high-contrast and color-rich visuals in near seamless, tiled video wall displays. It integrates easily into areas where space is limited, while flexible mounting options make it easy to service.
Christie FHD552-X HD ultra-narrow bezel 55 inch LCD display – A combination of high-definition, low operating cost, ultra-narrow bezels and energy-efficient LED backlight, make the Christie FHD552-X an ideal LCD panel for large, tiled digital displays. Displays can also quickly transform into a multi-touch interactive display with the Christie Interactivity Kit.
About Christie
Christie Digital Systems USA, Inc. a wholly-owned subsidiary of Ushio, Inc., Japan, designs, builds and installs customized projection display solutions. Christie® delivers turn-key solutions for sophisticated virtual reality, simulation systems and control room environments including high-resolution power walls, multi-sided immersive environments, curved screen displays, domed simulation and multi-projector arrays. Industries and organizations that rely on Christie range from government agencies to oil and gas, aerospace to entertainment, and manufacturing and design to pharmaceuticals. For more information, visit http://www.christiedigital.com.
Follow Christie at:
Facebook.com/christiedigital
Twitter.com/christiedigital
Christie® is a trademark of Christie Digital Systems USA, Inc., registered in the United States of America and certain other countries
DLP® is a registered trademark of Texas Instruments