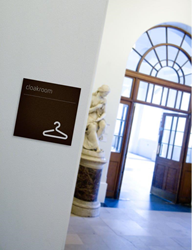 (PRWEB UK) 30 January 2015
Signbox has introduced an exclusive new collection of pictogram signs. Designed to suit all applications, the new Matt Design range uses Perspex® Naturals, a new palette of acrylics inspired by the simple beauty of nature.
Developed from leading colour trends research, Perspex® Naturals simulate the earthy tones and velvety texture of natural stone. The Matt Design range uses these exciting materials and then adds attractive and informative new pictogram designs to create a refreshingly new wayfinding signage range.
The Matt range is available in eight standard colours and sized at 150mm x 150mm x 5mm. Graphics are digitally screenprinted to the surface, using the on-trend, no-frills FF Netto typeface by Daniel Utz.
Perspex® Naturals offers designers real benefits:

Textured satin matt surface finish with the aesthetic appeal of stone
Strong, durable and hard wearing
Easy to rout, print and thermoform
Perspex® 10 year guarantee
100% recyclable
From hospitality to workplace, education to healthcare, the Perspex® Naturals Matt Design range of signs will suit both traditional and contemporary interiors. The double sided matt surface meets the desire for simple, natural looking materials that perform to high standards in demanding environments.
Pictograms are based upon the most popular symbols used for wayfinding with 15 designs available from stock. All panels are supplied complete with 3M double sided tape fixings to the rear. The Matt range is available from Signbox's online shop at http://shop.signbox.co.uk/shop/matt-design or if a particular design is required, please contact our sales team for advice.
UK-based Signbox is a leading signage specialist with thirty years' industry experience. With intelligent design and application, the company consistently delivers award-winning visual communication strategies via traditional and pioneering signage methods across a number of market sectors, including corporate, education, healthcare, retail, hotel and leisure.
With a proven formula based on contemporary design, technical innovation and engineering excellence, Signbox's holistic approach continues to put the company at the forefront of architectural signage. Sourcing and implementing cutting edge technologies and high quality sustainable materials, the company is renowned for delivering powerful interior and exterior signage projects for a diverse range of global brands in the UK, Europe, the Americas and the Far East – all of which are compliant, future-proof and visually arresting.
From concept to delivery, Signbox's design team and installation specialists can create and execute bespoke signage installations from an eclectic range of high-end solutions and services that enables a brand to express itself in any environment.
Beyond traditional signage applications, the company's service offering includes fabricated external structures, digitally printed glazing manifestations and wallpapers, way finding signage, digital signage, LED infused glass structures, contemporary name plates, interactive print via Near Field Communication (NFC) and signposting, among many others.
For further information, please visit: http://www.signbox.co.uk