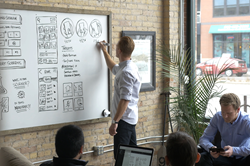 Equil Smartmarker makes every whiteboard surface smart by capturing and streaming notes to computers and mobile devices.
Chicago, IL (PRWEB) January 30, 2015
Equil Smartmarker makes every whiteboard surface smart by capturing and streaming notes to computers and mobile devices using standard dry erase markers, an easy-to-attach sensor and a technology enabled marker sleeve. The sleeve communicates with the sensor to instantly transfer data as it's written. Designed for the devoted whiteboarder who brainstorms, facilitates meetings with local and dispersed teams and diagrams and organizes projects on a whiteboard, Equil Smartmarker ensures content will never be lost. Using the Equil Note app, critical information can be edited, reviewed and shared. Most importantly it can be streamed to increase engagement and improve collaboration and teamwork.
Inside Equil Smartmarker's sleek design is sophisticated, patented technology to transform how individuals and groups generate and share ideas. To accommodate diverse environments, Equil Smartmarker works on any type of surface up to 16 feet (5 meters) – walls painted with dry erase paint, glass, fixed and mobile whiteboards – and automatically sends notes and drawings to Android, iOS, Mac OS or Windows devices or stores data in the sensor's internal memory for later import. Equil Note is integrated with cloud services such as Dropbox, Evernote, and iCloud to make saving and syncing content from mobile and desktop devices easy and convenient.
Along with Equil Smartmarker, Luidia released an updated version of Equil Note, introducing Note Stream, to allow for those in different locations on different devices to work together using both Equil Smartmarker and Equil Smartpen. Equil Note, features handwriting recognition to seamlessly convert handwritten notes to digital text. With this functionality, users can easily select all or part of their whiteboard content, save and organize it in the cloud and paste content into applications or send over email.
"Equil Smartmarker makes saving and sharing your white board content as easy as the push of a button. We are giving people the ability to use the whiteboard as a tool that not only helps create the big idea, but also to share —using our Note Stream technology—the content on the whiteboard in real time anywhere in the world", said Greg Appelhof, President Luidia, Inc. "Our teams have spent the last year developing Equil Smartmarker and Note Stream to eliminate the challenge of not being able to share whiteboard content and our early testing has received tremendous feedback. Educators, creatives, architects, engineers and Fortune 100 love the simplicity and mobility of our new technology."
Equil Smartmarker will be available for pre-order next month and will be available for direct purchase through Luidia resellers and retail partners. Visit http://www.myequil.com to learn more.
About DisruptCRE
99th Floor @ The Skydeck, Willis Tower, Thursday, January 29, 2015 in Chicago, IL. DisruptCRE is a first-of-its-kind commercial real estate / technology conference designed to connect disruptive ideas with capital and commercial real estate professionals. These innovators and professionals are disrupting the status and this event give them a time and place to connect, see demos, hear panelists and get involved in the future of real estate and technology.
About Luidia
Luidia Inc., originally founded in 2003, and reincorporated in 2013, has over 100 interactive technology and digital capture patents. Headquartered in Belmont, CA, Luidia creates eBeam and Equil product lines for B2B, B2C, education and OEM customers worldwide.