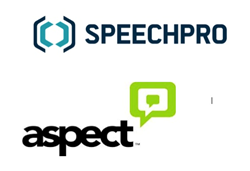 SpeechPro's biometric voice verification offering demonstrates the kind of state-of-the-art solution and innovative provider Aspect strives to partner with.
New York, NY (PRWEB) January 31, 2015
SpeechPro, a global leader in development of cutting-edge solutions in speech recording, processing, analysis and voice biometrics announced today that VoiceKey, their premier enterprise customer engagement solution for voice biometrics will be included in Aspect Software's Innovation Exchange, a marketplace of applications built by Aspect Professional Services, customers or partners that improve customer engagement and increase efficiency in the contact center.
The VoiceKey biometric product line is a premier enterprise customer engagement solution for voice biometrics. SpeechPro is carving out some sizable real estate in the voice biometrics market.
SpeechPro's VoiceKey platform is a voice biometrics solution that eliminates the need for customers to use passwords, which are often complex and difficult to remember. In lieu of passwords, a customer's unique biometric feature (voice) is verified and access to applications is granted simply through voice verification. This one-step process exponentially improves customer experience while also cutting call center costs and greatly reducing the possibility of fraud. SpeechPro offers text dependent and text independent technologies, a flexible application platform, and an anti-spoofing "liveness detection" capability, coupled with an extremely high accuracy.
"Aspect is one of the most forward looking companies in customer engagement solutions," noted Alexey Khitrov, President of SpeechPro. "We're excited to be able to feature our technology on the Innovation Exchange and help Aspect customers get access to the most cutting edge voice biometrics solutions."
"Aspect's Innovation Exchange was launched in order to create and collect the customer engagement market's most inventive solutions," says Mike Moors, Aspect vice president of worldwide channels. "Enterprises carry a heavy burden of balancing high security, fraud protection, while simultaneously enhancing customer experience. SpeechPro's biometric voice verification offering demonstrates the kind of state-of-the-art solution and innovative provider Aspect strives to partner with. We're very excited to have SpeechPro and their VoiceKey platform as a part of Aspect's Innovation Exchange."