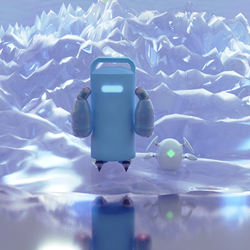 "This is not just about making a movie and hoping people like it. We are inviting people to walk through this process with us…which in itself can be just as if not more exciting."
Houghton, NY (PRWEB) January 29, 2015
Students from Houghton College have created a new socially interactive concept in animated film making by inviting the public to join on a yearlong journey through the creative process of writing and producing an animated short film. Throughout the year, viewers will be able to follow the weekly creative process online and will have opportunities to interact through social media and speak into both the design and storyline of the movie.
The Pixar-style animated short is called "Allice," a story about discovery and friendship. At the outset of the film, the planet has become covered in ice, and Allice has been given a grave and impossibly large task by her creators: melt all the ice in the world to return it to the way it was. As a result of her programming, Allice spends day after monotonous day trying to "save the world."
Everything changes when Allice meets Delta, a klutzy, child-like robot who hasn't quite figured out his place in the world. Though initially annoyed by him, Allice discovers that Delta has a lot of heart—and she finds in him something she doesn't have: a sense of wonder and discovery about the new icy world.
The team of Houghton students producing the film are Collin Belt, a communications major in charge of modeling, animation, and special effects; Matthew Grim, a music major overseeing audio production; and Hosanna Gifford, a communications major in charge of script writing.
The three students established Ice Nine Studios and aim to release this as their first commercial film endeavor. Their goal is to turn Ice Nine Studios into a legitimate movie production startup.
"If our project really takes off, there has been discussion of continuing Ice Nine Studios after we graduate," commented Belt. "We believe that we have a wonderful story to share—and we hope our audience agrees!"
The group has established a Facebook page, facebook.com/allicemovie, for the public to see weekly project updates, blog posts, sneak peeks and to assist with storyline development and offer creative suggestions.
"This is not just about making a movie and hoping people like it," commented a group representative. "We are inviting people to walk through this process with us…which in itself can be just as if not more exciting."
The group describes the core message of the film and how it can resonate. "Though Allice's world was created by a destructive accident, Allice's world is not a 'bad' world, a 'destroyed' world, or necessarily one that must go back to the way it was. Throughout the course of her journey—primarily as a result of meeting Delta—Allice discovers that it's not her job to fix the world by herself but instead to discover and make her own purpose. This realization comes from the friend she didn't know that she needed."
To learn more, visit http://www.kickstarter.com/projects/2108589101/allice.