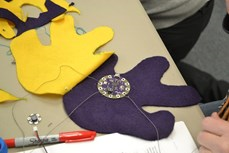 "They'll practice patience, perseverance, self-directedness, collaboration and teamwork. This is what 'making' is all about
Owings Mills, MD (PRWEB) January 31, 2015
Beginning February 2, Garrison Forest School (GFS) 4th and 5th Grade girls will spend the week immersed in STEM (Science, Technology, Engineering and Math) through a course created at the MIT Media Lab and led by i2Learning. In collaboration with the world's leading STEM institutions, i2Learning partners with organizations and schools nationwide to lead STEM immersion programs. By the end of the week, the GFS girls will learn how to create and program an interactive monster, an activity that combines traditional crafting with high-tech circuitry and arduino programming.
The week is part of an initiative at GFS designed to educate girls to become leaders in STEM fields, addressing disparities that begin in education and continue through the workforce. Garrison Forest's STEM education begins with the school's youngest students with a unique Preschool Imagineering class. The curriculum continues through the Upper School's Women in Science and Engineering (WISE) program, a research partnership with Johns Hopkins University, now in its tenth year.
The goal of the STEM immersion week is to teach the girls basic electronics and programming. "The girls have an opportunity to fully immerse themselves in a project-based learning experience," says Director of Libraries and Instructional Technology Reneé Hawkins. "This means that they'll practice patience, perseverance, self-directedness, collaboration and teamwork. This is what 'making' is all about."
In preparation for the immersion week, which focuses on e-textile projects, the students have been learning how to use GUI applications like Scratch and Blockly in school and practicing basic sewing techniques. The faculty also participated in a one-day teacher training with i2Learning in which they completed the steps that the students will learn throughout the immersion week. "It was intense, exciting, and at times frustrating, as we pushed ourselves in skills which for many of us were completely new," says Digital Learning Specialist Christine Shriver. "Through our roles as students that day, we will bring with us a stronger understanding during the STEM week as we coach our students through these very same experiences."
The girls will begin the week by making a bookmark book light, which allows them to learn and practice sewing basic circuits, connecting positive and negative tabs to LEDs. They will then build on the programming concepts they have learned to develop a LilyPad Arduino Simple Snap, which teaches programming and how to troubleshoot with "C," a programming language.
Once they master sewing, circuitry and programming, they move on to sewing the Interactive Friendly Monster, the immersion week's main activity. In order to reach the final goal of programming their stuffed toy to play music and light up with one touch, they will cut the monster from felt, add LEDs, speakers, and LilyPad Protoboard. The activity culminates on Friday, February 6 at 2 p.m. when students present the week's activity to parents.