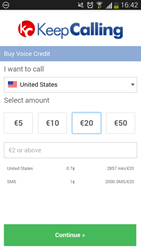 KeepCalling.com customers can now purchase Voice Credit straight from their Android app.
Atlanta, Georgia (PRWEB) January 31, 2015
KeepCalling.com customers can now purchase Voice Credit straight from their Android app instead of visiting the website each time their balance for international calls runs low. KeepCalling.com's application called "KeepCalling - Best calling app" can be downloaded for free from Google Play and runs smoothly from any Android device connected to WiFi or 3/4G. By introducing this new feature, the international telecom company proves that it takes into account all customer opinions, since this update is the result of their feedback.
What this novelty brings is the fact that customers can now buy Voice Credit from the app they use to make calls and don't need to log in on the website anymore. Customers can also set up their Auto Recharge feature from this page, so they will never run out of credit, or save new credit cards, a few features that weren't available until now.
The new tab called "Buy Voice Credit" is available in the "More" section of the menu. In order to be able to benefit from the new Buy Voice Credit page, customers need to update their app and use the latest version of the application.
Voice Credit is a prepaid service offering affordable credit for international calls and SMS. Calls can be made not only from KeepCalling app for Android and iOS, but also from any phone via access numbers and from a computer through the Web Call app. SMS can be sent from Web Call and KeepCalling apps.
With KeepCalling app, customers can place direct calls, without having to enter their PIN or an access number first. Customers don't even have to dial the destination number they want to reach, as they can use their phone Contacts list or the Speed Dial option, if Speed Dial was previously activated in their online account with KeepCalling.com.
KeepCalling app was designed to render international calls faster, easier to make, more transparent, while keeping the high connection quality and the low rates KeepCalling.com customers are used to. The application is an answer not only to the increasing number of smartphone users, but also to KeepCalling.com's wish to make the service as easy and accessible as possible.
In order to use the app, customers need to:
1. Download it from Google Play
2. Log in with their PIN and email registered on KeepCalling.com
3. Start calling to any number in the world at great rates with no hidden costs
The services KeepCalling.com offers are Voice Credit, Mobile Recharge, Monthly Plans, and Virtual Numbers. Transactions on KeepCalling.com are transparent, there are no hidden fees and the balance never expires. Moreover, transaction information and call records are always available in the online account.
KeepCalling.com is a highly appreciated international calling service. The website is reviewed by its customers on Trustpilot.com and is rated as "Great". Two of the customers say "Daughter lived in Hong Kong and now Singapore and KeepCalling has been such a blessing. We can talk for hours for next to nothing" and "I always use KeepCalling and I would highly recommend everybody to use it!"
About KeepCalling.com
KeepCalling.com is an interactive website designed by KeepCalling, a global telecommunications company registered in 2002 in USA. Presently, KeepCalling provides its services to hundreds of thousands of consumers and businesses, with a focus on customer satisfaction. KeepCalling has been listed by Inc 5000 in top 20 telecom companies in the USA for the last 4 years. In 2014 the company was designated the 18th fastest growing company in the telecommunications industry in USA with a revenue increase of over 600% from 2010 to 2013.