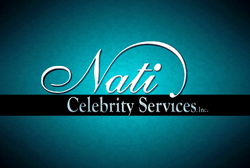 "We are thrilled to be attending the Super Bowl and it's festivities this year", said Domenick Nati
Phoenix, AZ (PRWEB) January 29, 2015
One of the leading public relations firms in the world has officially announced their participation in this year's Super Bowl festivities. Nati Celebrity Services, Inc. has agreed to make the trip from their home offices in Virginia to the biggest stage in American sports… the NFL Super Bowl. The companies President Domenick Nati has agreed to join his long time client Bobo Norco in his involvement in this year's exclusive events.
Among the events they will be attending is a slew of private celebrity parties and the flag football challenge in Surprise, Arizona. Bobo Norco will be playing in the flag football game with fellow celebrities and athletes including Nelly (Recording Artist), 2 Chainz (Recording Artist), Jamie Foxx (Actor), Alice Cooper (Recording Artist), Ray J (Recording Artist), Detail (Producer), DeSean Jackson (Washington Redskins), Justin Forsett (Baltimore Ravens), Darnell Dockett (Arizona Cardinals), Evander Holyfield (Boxer), Josh Gordon (Cleveland Browns), Sam Bradford (Saint Louis Rams), and many more.* (*roster is subject to change).
"We are thrilled to be attending the Super Bowl and it's festivities this year", said Domenick Nati. "Supporting and accompanying our clients in their appearances is something that our company takes pride in. We would also like to thank all of Bobo Norco's fans for their excitement and attendance in his scheduled appearances this year."
Domenick Nati will be joined by Nati Celebrity Services Vice Presidents Jesse Pratt and Chris Riddick. For more information visit http://www.NatiCelebs.com.
About Nati Celebrity Services
From professional athletes, to Hollywood actors, to mainstream musicians, we are an experienced sports & entertainment public relations agency. The firm specializes in media relations, marketing communications, and literary production. Established by media mogul Domenick Nati, the firm has been featured in every major media outlet including Rolling Stone Magazine, CNN, USA Today, New York Times, TMZ, Wall Street Journal, MTV, Billboard, E! Entertainment and many more.
https://twitter.com/NatiCelebs
https://www.facebook.com/NatiCelebs
http://www.imdb.com/name/nm2155356
https://en.wikipedia.org/wiki/Domenick_Nati