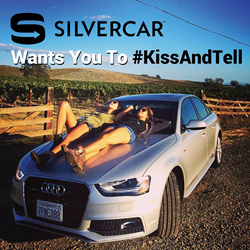 Unfortunately for travelers, there's a real tendency to 'settle' in car rental. With three companies owning 96% of the market, there are just too few suitors.
Austin, TX (PRWEB) January 29, 2015
As Valentine's Day approaches and relationships are top of mind for both singles and couples alike, Silvercar wants to encourage consumers to start seriously evaluating their current relationship with their car rental company.
"February is the ideal time to get travelers thinking about their current car rental relationship," explains Silvercar CEO Luke Schneider. "Unfortunately for travelers, there's a real tendency to 'settle' in car rental. With three companies owning 96% of the market, there are just too few suitors." Schneider calls out industry refueling policies specifically, "Do you consider yourself to be in a healthy relationship when your car rental company charges you 3-5 times the local pump price for fuel? Or demands a receipt if you elect to fill it up yourself? For many, myself included, 'bad gas' is a relationship deal-breaker." Luke goes on to cite Silvercar's "Top Five Red Flags You're In A Bad Relationship With Your Car Rental Company" and encourages travelers to "break up with bad car rental."
To help bring this issue to the forefront, on Saturday, February 14th, Silvercar will take their relationship advice to the streets via a guerilla "Kiss and Tell" mobile activation in high-traffic areas in key identified markets. Silvercar Brand Ambassadors will be dolling out physical, hugs, kisses and first-time renter discount codes to willing recipients, as well as educating them on car rental relationship "red flags."
Consumers, in turn, will also be encouraged to #KissAndTell about their worst rental car experience on Facebook. Up to twenty of the best "worst" stories each week in February will earn the chance to win one free Silvercar day.
In addition to Silvercar's February #KissAndTell local market activations, the company is extending the $59 pricing promotion implemented in January for all drives booked to take place in February.
#KissAndTell Mobile Activations Schedule By Market
Saturday, February 14th, 2015 / 12:00-3:00PM
Doc's: 1123 South Congress, Austin, TX
Union Station: 1225 17th Street, Denver, CO
Dolores Park: Corner of 20th and Church, San Francisco, CA
Ocean Drive: Between 7th and 10th, South Beach, MIA
About Silvercar: Car Rental The Way It Should Be
Founded with a mission to eliminate typical frustrations and points of friction that have plagued its industry for decades, Silvercar is paving the way for the future of car rentals. The company's seamless car rental business—offering only fully loaded silver Audis A4s—eliminates lines, counters, paperwork, and hassles by delivering the entire experience through an easy-to-use mobile app and friendly concierge service. Silvercar is continually earning the highest customer satisfaction and loyalty scores in the industry and is currently offering service in five of the six busiest car rental markets in the U.S. (SFO, DEN, LAX, MIA, PHX as well as DFW, DAL & AUS.) To learn more, download the Silvercar app and/or visit Silvercar.com.