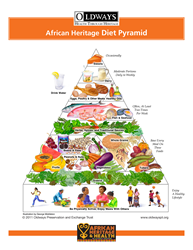 The A Taste of African Heritage program focuses on cooking classes that showcase the rich and healthy roots of African culture and traditional cuisine.
Boston, MA (PRWEB) February 03, 2015
Based on three years of success, Oldways is expanding its national cooking and wellness program, "A Taste of African Heritage" to help more communities and individuals reconnect with the vibrant ways of eating and living that supported the health and wellbeing of African-American ancestors. The program is made possible through a grant awarded by the Walmart Foundation.
The traditional diet experts at Oldways, the Boston-based nonprofit, launched the national cooking and wellness program in July 2013, after a year-long pilot program. In 2014, Oldways coordinated 100 A Taste of African Heritage class series throughout the country, reaching roughly 1,000 participants. Participants showed marked improvement in healthy behaviors and biomarkers including:

Increased vegetable consumption
Increased cooking
Reduced weight, waist circumference and blood pressure
"The A Taste of African Heritage program focuses on cooking classes that showcase the rich and healthy roots of African culture and traditional cuisine," said Sara Baer-Sinnott president, Oldways. "The goal is to help address health issues related to African Americans who are at greater risk for heart disease, diabetes and obesity by celebrating African American culinary heritage."
Much research supports that those at greater risk of chronic diseases can improve their health by eating more healthfully, especially including more fruits, vegetables whole grains, and beans - but the vast majority of programs promoting such changes are often couched in cultural terms that resonate more readily with Caucasians and are perceived as asking African Americans to turn their back on their own culture and traditions. The Oldways program changes that with a culturally attuned program created together with culinary historians, nutrition scientists, and public health experts.
In addition to on-demand classes, new components for 2015-2016 include a city-wide A Taste of African Heritage initiative in Philadelphia, the creation of an Ambassador Network of repeat instructors and a partnership with NHP Foundation, a nonprofit organization that creates affordable multifamily housing for low- to moderate-income families and seniors and provides programs and services to enhance the quality of life for its residents.
The centerpiece of the "A Taste of African Heritage" program is the African Heritage Diet Pyramid, introduced by Oldways in November 2011. This healthy eating model celebrates the traditional eating patterns of early African-American ancestors—from Africa, South America, the Caribbean, and the American South.
For 25 years, Oldways has been dedicated to promoting the powerful health benefits, affordability, and delicious flavors found in traditional plant-based diets worldwide. To get more information on participating as an instructor or student in A Taste of African Heritage Cooking Classes, please contact Sarah McMackin, Oldways program manager, 512-330-0111, sarahm(at)oldwayspt(dot)org.
About Oldways
Oldways (http://www.oldwayspt.org) is a nonprofit food and nutrition education organization, with a mission to guide people to good health through cultural food traditions and lifestyles, using practical and positive programs grounded in science. Simply, we advocate for the healthful pleasures of real food. Oldways is the parent organization for The Whole Grains Council, Mediterranean Foods Alliance and Cheese of Choice Coalition, and is well-known for creating the Whole Grain Stamp and the Mediterranean Diet Pyramid.
About Walmart Foundation
Walmart and the Walmart Foundation are committed to helping people live better through philanthropic efforts that draw on the strengths of Walmart in the arenas of sustainability, economic opportunity, and community. As part of our commitment to creating a more sustainable food system worldwide, Walmart and the Walmart Foundation are leading the fight against hunger in the United States. They recently exceeded a $2 billion goal to fight hunger one year ahead of schedule and have donated more than 1.5 billion pounds of food to those in need across the country. To learn more about Walmart's giving, visit http://www.foundation.walmart.com.