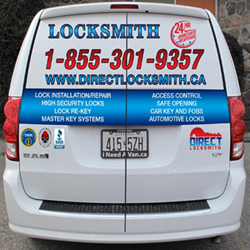 Direct Locksmith Services can not only provide you with a new FOB for a very affordable price, they'll also completely replace the vehicle locks, keys and FOBs for your vehicle, maximizing your security...
(PRWEB) January 30, 2015
When people are tired of locking themselves out of their vehicle, they can now look to Toronto-based Direct Locksmith Services who will have them covered 24/7. Since beginning to offer key-cutting and FOBs for all makes and models of automobiles in January of 2015, they have quickly established themselves as a leader for lightning-fast, quality key-cutting and FOB creation services. Direct Locksmith Services provides total security and peace of mind when it comes to their customers and customer's vehicles.
As thieves become more sophisticated, the likelihood of someone's vehicle getting stolen increases. For this reason, key FOBs have become an essential tool for car owners for security purposes, although many car owners enjoy them for the convenience factor. Unfortunately, if lost or stolen, FOBs can be very expensive to replace, especially when working through the car dealership. Thankfully, Direct Locksmith Services can now not only provide customers with a new FOB for a very affordable price, they'll also completely replace the vehicle locks, keys and FOBs for the vehicle, maximizing customer security in case their keys or FOBs ever fall into the wrong hands.
Regardless of make or model, Direct Locksmith Services can now provide customers with a fast, quality replacement for any remote FOB, laser-cut keys, smart remote keys, and much more. Additionally, Direct Locksmith Services covers any type of residential or commercial property.
Learn more about their full range of services by visiting their website at http://www.directlocksmithservices.ca/. To contact Direct Locksmith Services now, just call 1-855-301-9357 or add the number to a cell phone in case of a near-future lockout.
Because they offer 24/7 emergency response, their friendly staff of locksmith experts are standing by and ready to get anyone safely taken care of. Customers can also follow them on Facebook to stay up-to-date on new services and tips on keeping their property secure.