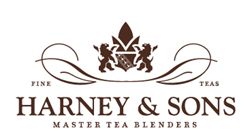 (PRWEB) January 29, 2015
Harney & Sons Fine Teas, celebrating over 30 years and three generations of master tea blending, celebrates Valentine's Day with exclusive tea blends and new gifts inspired by romance and love.
The lore and legend of Valentine's Day has inspired generations to love. In homage to romance, Harney & Sons created an exclusive blend of chocolate tea and rosebud: Valentine's Blend. The romantic combination of chocolate and rosebuds give the tea a unique sweet floral aroma.
There is a great love story behind Harney & Sons Fine Teas. It was love at first sight over 60 years ago when Harney & Sons Fine Tea's founder, John Harney, who unexpectedly passed away in 2014, met Elyse. Five children and 11 grandchildren later, Harney & Sons' fearless and ever-optimistic Master Tea Blender revealed his secret to a Happy Life: "It's my love for life and having a bride who is committed to her faith and loyal to her family and friends." With that in mind, Harney & Sons created Eternal Love in honor of 60 years of union, a blend of tea that has a balance of all the right ingredients.
Another popular blend, Love Life tea, aptly named for GMHC's slogan and logo, is a blend of Bancha green tea with strawberry, coconut, vanilla, and puffed rice. 50% of the sales from this tea will be donated back to GMHC, an organization fighting to end the AIDS epidemic and uplift the lives of all affected.
In addition to Harney & Sons' exclusive collection of romantic brews, the company put together four special gifts for tea-drinkers to share with their loved ones: Valentine Love, Valentine Loose Tea & Cookie, Valentine Sachet & Cookies, & Sweet Valentine. Each gift features Harney & Sons' Valentines Tea & sweet confections.