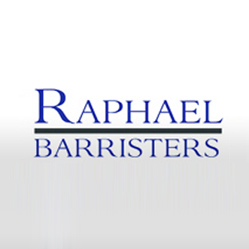 For several decades, the firm has been regarded as one of Toronto's leading personal injury law firms.
Toronto, ON (PRWEB) January 30, 2015
Raphael Barristers is a personal injury law firm that has proudly served several communities in Southern Ontario for over fifty years. The firm was originally founded in 1963 in Windsor, Ontario and in 1987 Bert Raphael and Stan Raphael merged their leading Toronto litigation law firm with the Windsor office. The firm recently received the name Raphael Barristers and have since become an acknowledged force in the Ontario legal community with their focus on personal injury litigation.
For several decades, the firm has been regarded as one of Toronto's leading personal injury law firms. They currently hold offices in both Toronto and Thornhill, with lawyers that have dedicated their focus on practicing personal injury law and insurance claims. Their lawyers are certified specialists in Civil Litigation by the Law Society of Upper Canada and some of them serve as Deputy Judges within the Superior Court of Justice. The firm is prepared to help individuals with a variety of claims including (but not limited to) accident claims, accident insurance claims, insurance disputes, and disability benefit disputes. The entire support staff is strongly committed to understanding and surpassing the legal needs of each client.
Raphael Barristers is the proud receipt of the 2013 Overall Personal Injury Lawyers of the Year within Canada, awarded by Acquisition International. They also hold the Legal Fellowship Award from the Ontario Brain Injury Association in 2007 for providing outstanding support of persons living with an acquired brain injury. The clients of Raphael Barristers speak highly of the service and experience they endured. "I was involved in a car accident and retained Jeffrey Raphael as my lawyer," said a recent client. "I had fractured two vertebrae in my spine and I was left with chronic back pain. We were able to settle my case just days before trial for well over $1 million and I continue to receive a monthly long term disability benefit."
Raphael Barristers has an admirable record of successful trial results and settlements for their clients. They have gained the respect of insurance companies, mediators, arbitrators, and judges. The firm holds good standing amongst their colleagues and they are frequently referred the more complex personal injury cases. Find out more information about the personal injury law firm by visiting their website at http://www.raphaelbarristers.com.