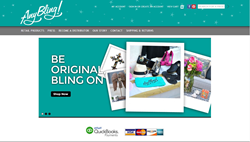 Thousand Oaks, CA (PRWEB) January 30, 2015
Any Bling! Inc., the maker of custom Bling products for Gift Embellishments, Decorative Ornaments, Décor, Food/Wine Embellishments, Fashion Accessories, LED Candles and others, has launched their new website: http://www.AnyBling.com aimed at Consumers, Wholesale Distributors and Merchants nationwide.
The new website provides a comprehensive display of all current AnyBling! products combined with both an integrated retail and wholesale purchasing shopping cart. Distributors and Merchants can quickly create an account and begin purchasing AnyBling! product at wholesale prices. Consumers can purchase right from the retail shopping cart instantly.
"AnyBling! offers unique high quality Bling products never seen before on the market and our products make the perfect gift or gift embellishment," said Stacy McCloskey, CEO and Founder of AnyBling! "The new website has a beautiful look and feel and meets the needs of all our customers both Retail and Wholesale. We expect tremendous sales through our new national user-friendly website."
AnyBling! has launched with a state of the art dual display shopping cart. Consumers automatically see retail pricing and can check out quickly. Wholesale customers like Distributors and Merchants can quickly sign up for a free membership and begin purchasing items in bulk at wholesale prices.
About AnyBling!
AnyBling! Inc. offers unique products that stand out in the world of gifts and gift embellishments. Some top sellers include Wine Charms, Bling Fashion Accessories and custom Décor Bling products. New to the line are a whole range of LED Candles in a rainbow of colors. More information can be had at http://www.AnyBling.com , or call Stacy McCloskey, CEO at 818-555-1212.