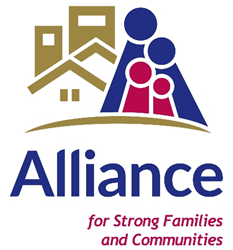 Washington D.C. (PRWEB) January 29, 2015
The Alliance for Strong Families and Communities is excited to share insights, lessons, and successes from the first six months of its industry-leading framework, The Commitments of High-Impact Nonprofit Organizations. It also is offering additional resources for 2015.
VALUE OF THE COMMITMENTS
In the face of growing pressure to achieve, elevate, and document community impact, human-serving nonprofits need a methodology that empowers them to maximize capacities and meet stakeholder standards. The Commitments is a specific framework of approaches, values, and disciplines that outline the path to genuine community impact in today's challenging environment by pursuing organizational excellence in the following Commitments areas:

Leading with Vision
Governing for the Future
Executing on Mission
Partnering with Purpose
Measuring that Matters
Investing in Capacity
Co-Creating with Community
Innovating with Enterprise
Engaging All Voices
Advancing Equity
The Commitments framework is an outgrowth of the Alliance's Strategy Counts Initiative, made possible by The Kresge Foundation, as well as Alliance member organization feedback, an extensive literature review, and the Alliance's more than 100 years of experience as a leading network of human-serving nonprofit organizations. Going beyond a mere checklist of ideas and recommendations, the Commitments framework is backed by a deep array of learning and evaluation tools through the Alliance—from webinars to peer exchange groups.
The Alliance believes these Commitments will stand the test of time as a proven framework for nonprofit organizational high performance and durable change.
"When we initially rolled out the Commitments in August 2014, it was evident our field was seeking a clear path toward achieving real impact that strengthens communities," said Alliance President and CEO Susan Dreyfus. "We have the history, the member network, and the expertise to provide that pathway, and it's been encouraging to see how organizations have embraced the Commitments."
There is no stipulated sequence or pace to the Commitments framework, nor is it a rote set of compliance or accreditation standards. Instead, it's universally applicable to human-serving organizations regardless of size, complexity, maturity level, or program orientation. "We don't just prescribe practices," Dreyfus said. "We guide and assist organizations to pursue excellence in each Commitment area."
EARLY INSIGHTS AND SUCCESSES
Several organizations already are experiencing value from the Commitments. "The Alliance is serving as a touchstone and model, and as a guide to helping all of us increase our successes," said Dennis Richardson, president and CEO of Hillside Family of Agencies, Rochester, New York.
To achieve high impact, organizations must be advocates first and service providers second, measuring success not in services but in the number of people able to free themselves from poverty.
"Because of the Commitments, more human-serving nonprofits and the communities they serve will have brighter futures and better experiences," said Tracy Feild, director and manager of the Child Welfare Strategy Group at the Annie E. Casey Foundation.
Optimal organizational performance is a necessary foundation for impact. The uniqueness of the Commitments, however, is that they guide not just an organization's what, but its how and why.
"Being committed to 'Partnering with Purpose,' [for example], means future efforts will not only be aligned, but they'll be more strategic and better able to take on the complexities of our community's challenges," said Brian Gallagher, president and CEO of United Way Worldwide.
A number of Alliance network members also are incorporating the Commitments framework into their 2015 strategic planning processes.
NEW TOOLS
This spring, the Alliance will introduce its Commitments Assessment Tool. Developed in conjunction with the highly respected American Institutes for Research, the Assessment Tool will reach deep into an organization to comprehensively evaluate its capacities against the standards in each Commitment area.
Organizations will be able to benchmark their Commitments maturity against peer organizations and identify priorities for improvement. Areas of strength also can be lifted up and shared as best practices.
The Assessment Tool currently is being piloted by more than 30 organizations.
Through the Alliance's scope and reach, the Commitments framework has the potential to substantially transform and accelerate the entire sector's journey toward excellence and genuine impact, fostering recognition and support for its role in society.
"In this signature work, we've captured the purpose, the difference, and the value of America's nonprofit human-serving sector, and we are aligning every part of our value proposition to help our members embed and live these Commitments every day," Dreyfus said.
The Alliance for Strong Families and Communities is a national organization dedicated to achieving a vision of a healthy society and strong communities for all children, adults, and families. The Alliance works for transformational change by representing and supporting its network of hundreds of nonprofit human-serving organizations across North America as they translate knowledge into best practices that improve their communities. Working with and through its member network on leadership and advocacy, the Alliance strives to achieve high impact by reducing the number of people living in poverty; increasing the number of people with opportunities to live healthy lives; and increasing the number of people with access to educational and employment success. Go to alliance1.org for more information.