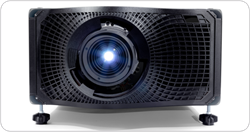 The brightness-to-size and brightness-to-weight ratios of the Boxer 4K30 is second-to-none in this lumen level of projector
Cypress, California (PRWEB) February 20, 2015
A combination of the most lumens, the most pixels, and 3DLP® quality combined with the smallest, lightest, yet most rugged design available in its class defines the new Christie® Boxer 4K30 projector launched today. The first offering from the new Boxer Series, the Boxer 4K30 hits the target every time while setting a new industry benchmark for rental staging and fixed installation applications including concerts, amusement parks, projection mapping projects, museums, planetariums and more.
The Boxer 4K30 has six 450W mercury lamps delivering 30,000 center lumens and will make its worldwide debut at the Integrated Systems Europe (ISE) show in Amsterdam, Netherlands, February 10-12 at Christie booth No. 1-H50. At a pre-launch event, held in November with rental stagers at Christie's Canadian facility, former undisputed heavyweight boxing legend Lennox Lewis was part of the festivities and the boxing legend will continue to champion Boxer Series. Already a global hit with more than 200 units sold worldwide, the Boxer 4K30 delivers, pound for pound, the ultimate combination of power, brightness, performance and durability.
Weighing less than 150 pounds (68 kilograms), the Boxer 4K30 can be carried by two individuals and is built to deliver undisputed performance for any rental/staging fleet or permanent installation. With built-in Christie Twist™, images can be blended and warped from multiple projectors onto curved or irregular surfaces without requiring an external solution. Housed in two 3-lamp cartridges, the six long-life mercury lamp modules are easy to handle, maintain, and change and stock, which means a better return on investment and less consumables.
Users can monitor the lamp hours and serial numbers through Near Field Communication (NFC) with each lamp – simplifying the effort required to track lamp-life and the ability to make fast changeovers so the show goes on. Boxer's Christie TruLife™ electronics package is equally at home supporting the most demanding high bit depth, high frame rate, native 4K signals as well as seamlessly supporting HD signals, with on-board upscaling making it a simple task to fit it into existing HD workflows.
"The brightness-to-size and brightness-to-weight ratios of the Boxer 4K30 is second-to-none in this lumen level of projector. This translates to not only the lightest projector at 30,000 lumens, but also reduced shipping costs and on-site handling," said Mike Garrido, senior product manager, Christie. "This Boxer 4K30 and the Boxer Series is about our customers winning more bids, winning more repeat business, earning more money per project and satisfying the needs of the most demanding clients. Boxer is optimized to provide an unprecedented user experience and everything from ease of use to lumens to durability to shipping size to weight has been taken into account."
"At the pre-launch event, everyone was very impressed with Boxer not only for delivering so much brightness in such a small, quiet package, but also for the fact that Boxer was loaded with exciting new features that make it very easy to use. For example, you can monitor lamp life levels using your smartphone and the projector even comes with its very own built-in toolbox," said Jeevan Vivegananthan, senior director of engineering, Christie. "In developing Boxer, we spent a lot of time with our customers around the world observing their needs and combined with Christie's own substantive expertise and experience in the field, reflected that in the design. We witnessed a definite user-affinity with Boxer that we're confident will continue to grow."
"With the Boxer 4K30 and the entire Boxer Series, the omni-directional orientation capability means greater installation and placement flexibility. No matter where you place the Boxer projectors and whether the projector points up or down at any angle, the image maintains its integrity and uniformity throughout the performance or presentation," Vivegananthan concluded.
Christie Boxer Series is equipped with full connectivity including 3G-SDI, HDBaseT, Display Port, DVI-I, HDMI, VGA, and 5 BNC, plus a color LCD preview panel readout, and a complete lens suite.
Christie Boxer 4K30 at a glance:

30,000 center lumens for Boxer 4K30 in smallest and lightest design available.
Six 450W mercury lamps with NFC capabilities to simplify lamp management both in the projector and on the shelf.
Unmatched 360-degree operation on any axis.
Longer life lamps allow the projector to continue generating revenue with less consumables.
The smaller, lighter projector reduces both shipping costs and on-site handling.
Built-in lamp confidence with six lamps offers piece of mind during shows.
Equally accepts 4K and HD signals, the latter using Christie TruLife's on-board enhanced upscaler.
Full connectivity for digital sources and a broad range of analog sources.
Preview screen adds confidence in the quality and number of sources available to the projector.
The Christie Boxer 4K30 has a three-year parts and labor warranty and ships in April.
About Christie
Christie Digital Systems USA, Inc. is a global visual and audio technologies company and is a wholly-owned subsidiary of Ushio, Inc., Japan. Consistently setting the standards by being the first to market some of the world's most advanced projector and complete system displays, Christie is recognized as one of the most innovative visual technology companies in the world. From retail displays to Hollywood, mission critical command centers to classrooms and training simulators, Christie display solutions and projector capture the attention of audiences around the world with dynamic and stunning images. Visit http://www.christiedigital.com.
Follow us:
Twitter.com/christiedigital
Facebook.com/christiedigital
#christiedigital
"Christie" is a trademark of Christie Digital Systems USA, Inc., registered in the United States of America and certain other countries.
Christie TruLife™ is a trademark of Christie Digital Systems USA, Inc.
Christie Twist™ is a trademark of Christie Digital Systems USA, Inc.
DLP® is a registered trademark of Texas Instruments