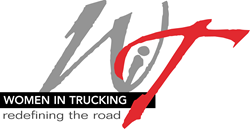 The Women In Trucking (WIT) Association has partnered with uFollowitTM, a leading provider of mobile applications to offer an application designed to connect the organization's current and potential members through technology.
Plover, WI (PRWEB) January 30, 2015
"This app will provide an electronic way for our 4,000 members to connect with each other through our social networks, such as Facebook, YouTube, LinkedIn, and Twitter," said WIT President/CEO Ellen Voie. "It will also allow us to give them current information about our events, programs, and even career opportunities," Voie added. The application also includes route sharing for conference attendees as well as Voie's blog and the association's press releases.
Both members and potential members are invited to download the app from the Google Play Store or Apple iTunes. There is no charge for the app, which can be found by searching for "Women In Trucking."
"uFollowit™ , Inc., a is proud to support Women in Trucking by providing them their own application, connecting members, sponsors, and those interested in the contributions that women are making in the trucking industry," said Danny Dever, Vice President of Sales for uFollowitTM. "This simple yet effective app ties all the social media channels as well as the organization's website into the palm of your hand and a button touch away," Dever added.
As more industry professionals use the app, features will be added to accommodate the needs of the users. Women In Trucking is the first trucking association to offer a Smart Phone application to its members.
uFollowit™ was the first company to produce a smart phone tracking and document capture application for the transportation and logistics industries. Combining more than eight cumulative decades of SAAS electronic records & document management experience with their expertise of the smartphone-tablet market, they are able to produce leading edge enterprise solutions.
Women In Trucking Association, Inc. is a nonprofit association established to encourage the employment of women in the trucking industry, promote their accomplishments and minimize obstacles faced by women working in the trucking industry. Membership is not limited to women, as 16 percent of its members are men who support the mission. Women In Trucking is supported by its members and the generosity of Gold Level Partners: Bendix Commercial Vehicle Systems, Daimler Trucks NA, GE Capital Transportation Finance, Great Dane Trailers, J.B. Hunt Transport, Ryder, Inc., U.S. Xpress, and Walmart. Follow WIT on Twitter, Facebook, or LinkedIn. For more information, visit http://www.womenintrucking.org or call 888-464-9482.